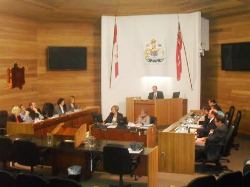 North Bay City Council met on Monday evening to deal with a number of items on their agenda.
A prevalent issue was the Energy East Pipeline Project and its close proximity to the city's drinking water source.
Concerned, council opted to present a letter to all Federal and Provincial party leaders to request that North Bay Mayor Al McDonald be given intervener status on behalf of the City at the National Energy Board hearings.
The status would give the Mayor a say in the acceptance or refusal of any proposed pipeline remediation plans, should there ever be a catastrophic event, such as a leak or failure with detection.
Council also raised many points during discussions concerning the bitumen being pumped along the natural gas pipeline through the city, just above the water supply.
However, it is unclear whether those concerns will even be recognized or acted upon in a time of economic and environmental conflict at a Federal level, beyond the municipal mandate.
Council also heard a presentation from a local resident, who came forward with his concerns that municipal taxes were too burdensome, stifling the business community, with costs too high for those who are expected to pay.
A final report was given to council on Monday, regarding the status of funds for the city's Capital Projects for 2014, to which council passed a motion to defer some of the 'minor' projects in direct response to the Memorial Gardens cost overrun.
Although the project went over budget by 5.2 million dollars, hockey goers will be delighted to know that they won't be seeing an increase in ticket prices to make up for the cost of the entertainment venue.
With some council members saying that the project is near completion, others have pointed out that a few major issues still exist; one of them being parking or the lack thereof.
It is anticipated that with the spring thaw, the former Leo Troy field will soon result in a mud pile, becoming the welcoming space next to the newly renovated arena.
Council also brought forward the recently implemented rental housing by-law that they wish to see continued, extending into different subdivisions throughout the city.
The by-law, designed to mitigate student overcrowding and parking concerns, could be seen to some as an attempt by the city to licence private property rentals in exchange for fees.
Council also passed a number of smaller property and by-law adjustments in order to facilitate rezoning and minor traffic issues within the municipality.
There's also a new weed inspector.