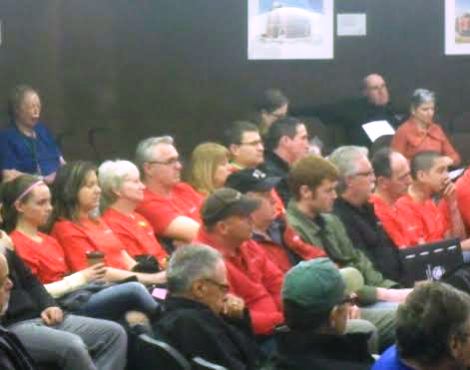 North Bay City Council had a full agenda on Monday evening along with a set of presentations from the public and local union groups.
North Bay Hydro gave a Power Point presentation regarding the numerous programs that they have implemented to conserve energy in the city; one being through the installation of LED lights on streetlamps and at city facilities.
Workers and representative of ONTC were also at council, making known their concerns that the impending sale of Ontera's communication and internet division would mean less competition and result in poorer service for those who live in the North.
In response, Deputy Mayor Tanya Vrebosch put forward a motion that the City of North Bay ask the Provincial Government to reconsider the sale of Ontera and to demonstrate how competitive services and pricing to Northeaster Ontario will be provided.
Some local residents were also on hand on Monday evening, presenting to council their concerns about the operations of a tree removal service that, on one occasion, seemed to be working outside of the proper public notification process.
There was also a presentation made on behalf of one citizen, who had some serious concerns that Cassellholme may be barring visitors that the staff feel are a nuisance.
Council was happy to report that they had accepted the lowest of four bids to tender out contracts to reputable companies with regards to fixing all the potholes that are being discovered within the city.
The measure of picking the lowest bidder is designed to save taxpayer's money, however, that may leave questions as to the quality of work and materials that are used to patch what seems to be a continually deteriorating road system, especially following this year's long and harsh winter.
Council also looked at recommendations concerning the issue of the 2014 Tax Capping Policy.
The policy looks to cap taxes at 10 percent or a limit of 5 percent over the last year, favouring whichever is greater.
The complicated program will see various recommendations looking at controlling the burden of taxes on homeowners and business' in order to keep the economy manageable.
Finally, some fun news as it was revealed that the spring Mid-way has been given the go-ahead and will run from May 7-11.