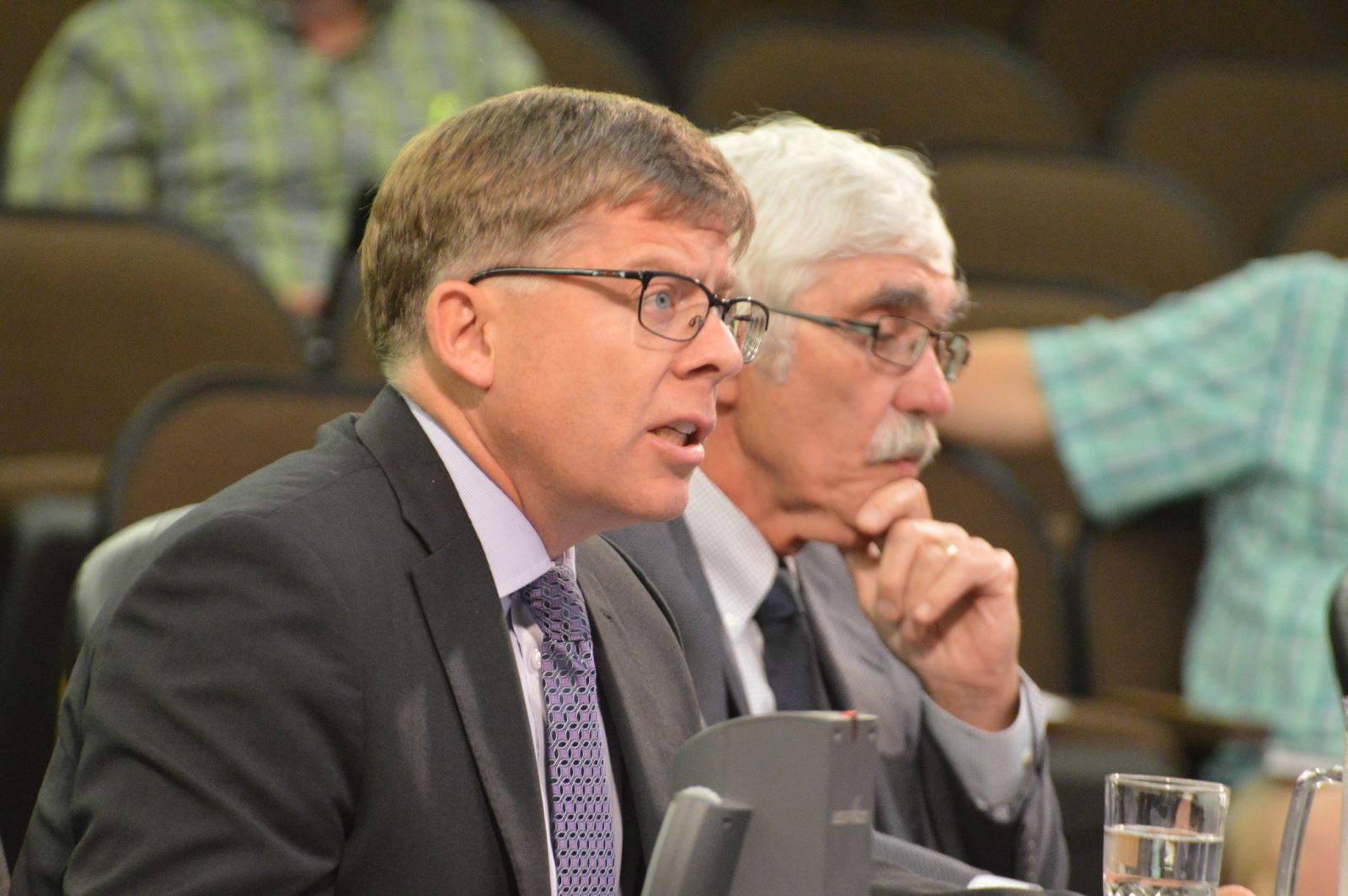 Chris Winrow, left, and Lachlan McLachlan of the North Bay and Area Community Hospice presented their vision for a residential hospice on the ground floor of the North Bay Regional Health Centre to City Council on Monday night. PHOTO BY LIAM BERTI
The group representing a second hospice proposal for the North Bay area presented their vision to City Council on Monday night.
Chris Winrow, a North Bay and Area Community Hospice board member, delivered a passionate presentation for the politicians where he painted the picture of a ground floor, 10-bed residential hospice on the existing footprint of the North Bay Regional Health Centre.
Despite being on the campus though, Winrow stated emphatically that the end of life care facility would be a separate entity from the hospital entirely.
"Our residents and their families will never need to enter the Health Centre," he said. "We are self-sufficient, self-contained and self-administered."
At the end of May, the North East Local Health Integration Network (Northeast LHIN) issued a request for expressions of interest for a residential hospice in the Nipissing District.
The tentative plans for the Community Hospice proposal call for a fully independent, self-contained home co-located on North Bay Regional Health Centre campus with private entrance, free nearby parking, walking garden paths and pond with meandering brook, among other features.
Winrow said the location would offer a seamless integration between the hospice care team and palliative care physicians at the hospital, but beyond that would not be part of the hospital.
The Community Hospice is also competing against the Nipissing Serenity Hospice, a separate organization who submitted their own proposal and has been working to secure a stand-alone site requiring brand new construction.
Winrow, on the other hand, said his team are not seeking land or rezoning and is convinced that the Community Hospice could have their doors open within a year of being given the go-ahead.
"We have the advantage of infrastructure which already is state-of-the-art, so that gives us a bit of a head start," said Winrow. "We just need to invest money into very important cosmetic improvements to make it look and feel like home."
The group would need $1.2 million to convert the existing space into the residential hospice they have designed, all of which has to come from community fundraising.
The Ministry of Health and Long-Term Care would then fund $90,000 per bed, but the balance of the hospice's operating budget would also have to be fundraised within the community.
"This is a stretch, it is not easy," said Winrow. "Even after you have it built, you have a $700,000 shortfall, revenue-to-expenses, every year just to keep the doors open."
He said that other hospices throughout the province face similar annual fundraising numbers. The Nipissing Serenity Hospice, he said, would also require that amount of operating funding on top of their much higher capital costs for construction.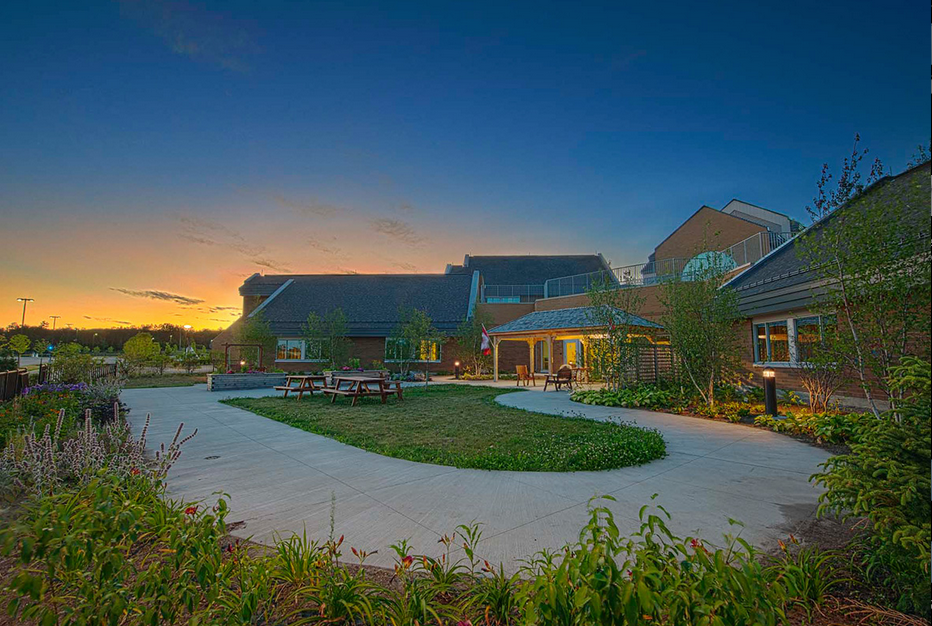 Winrow said that as far as he knows, North Bay is the only community to have multiple proposals come forward, which could be a contributing factor in LHIN stalling the development process.
Beyond the competition though, he said the two groups see eye-to-eye when it comes to filling a long-standing void in the area.
"Both groups, to be honest, are passionate about what needs to be done," said Winrow. "We also recognize that there are only 20 that the province has said they are willing to fund at this stage, and we want to be on that list and so does the other group.
"What we have to remember is we have to get this done," he added.
For now, the process lies in LHIN's hands, who pulled back after receiving the two proposals and has since said they need to look at what the desires of the community are.
"This is a priority for our community and I don't think the LHIN will back off; we just have to be patient and wait for them to redefine the process," said Winrow. "What we would like to do is make sure that as many people in the community have as much information as possible so they can make informed decisions down the road."
Coun. George Maroosis expressed concern for the Community Hospice occupying a hospital ward that currently houses seniors with mental health issues, while also questioning the group's agreed-upon lease with the Health Centre.
All Winrow could confirm was that the area in question is in the process of being deemed "surplus space" and that the hospital plans on reallocating it for the hospice.
"There are currently patients residing in the rooms that are part of this facility," Winrow explained, "but the hospital has assured us that they already have a plan for a reallocation of existing space to accommodate the patients that are currently in that facility.
"Our rent is exceptionally inexpensive, but that doesn't mean that it's not a big benefit for the hospital," said Winrow. "My guess is that they would get other benefits by having the hospice there: reduction in square-footage, cheaper heating costs…I'm guessing that's what the real benefit is."
Instead of seeking donations, the registered charity has been actively seeking commitments whereby supporters sign an offer that says if their proposal is chosen, they agree to donate a certain amount of dollars.