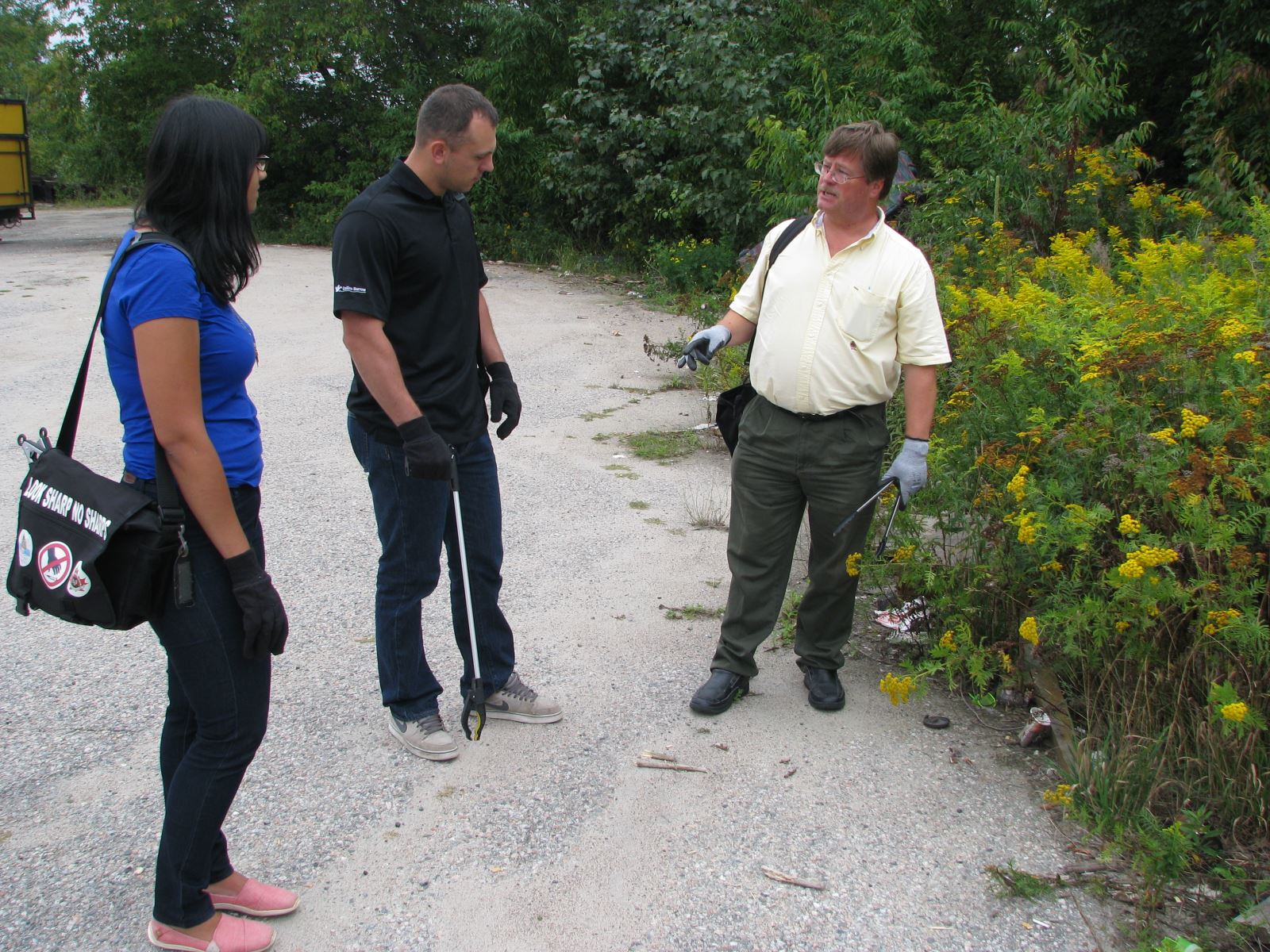 Dennis Chippa trains two new volunteers, Suzanne Desa and Jessy Pederson, on the safest way to look for discarded needles, as well as the safest way to collect and dispose of them. PHOTO by: Jazz Mathon
When needles are found, chances are Dennis Chippa and his team are called upon to pick them up. Chippa works for the Aids Committee of North Bay and also heads the program, "Look Sharp, No Sharp."
He says so far this year they have responded to 44 calls and recovered approximately 9600 needles. The majority of those were found in housing units, while around 600 were found outdoors.
That is nearly triple of what was recovered in all of last year. Despite the increase Chippa is not fazed.
"We don't think it's because there is an increase in needle usage, or needles being disposed. We think it's because more people know about our program."
Chippa says the most disturbing find took place in late spring, when they were contacted by a North Bay landlord, stating there were needles left behind by tenants. He was shocked when they walked into the basement apartment.
"No video or picture can describe the smell. The house had been without power for two weeks and there was no ventilation. It was incredibly difficult for the two of us that went in. It was truly a sad scene."
In all, three thousand needles were collected. A task that required 90 minutes and two garbage size hazardous waste bins.
The group, which consists of six volunteers, also does safety checks in problem areas around the city.
"We do them to ensure safety in areas where we know there have been calls in the past. It is usually pretty quick as we know what we are looking," says Chippa.
On Tuesday, Chippa held a training session for two of his new volunteers in a wooded area near Second Avenue.
"I volunteer at a couple other agencies, the North Bay Regional Health Center, the OPP Auxiliary Program and I am just looking to further my volunteer commitment with North Bay as a community," says Jerry Pederson.
This week, Chippa will be combing the beaches of the waterfront with a group of volunteers from Nipissing University. It's another initiative the program, "Look Sharp, No Sharp" undertakes.
"It's all about making the community safe. No one wants to find a used syringe," adds Chippa.