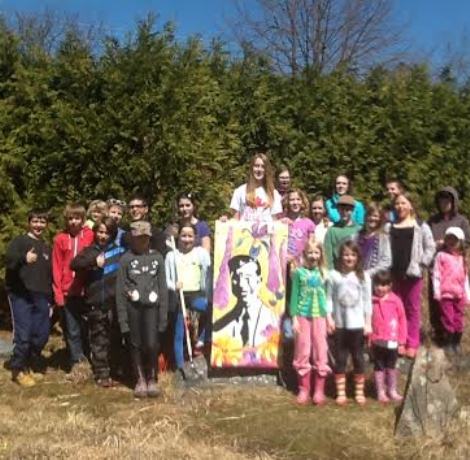 Chippewa Secondary School's RaiderAid students pitch in at Sweetman's Garden and Madison Young (center) delivers a gift of a banner of Sweetman. Photo provided.
Chippewa Secondary School students lived up to the saying 'pay it forward' which means conducting a good deed or repaying to others when they dropped in to lend a hand at Sweetman's Garden on Copeland Street this past month.
The RaiderAid students rolled up their sleeves and pitched in to clear, clean and help prep the community garden for the annual spring bloom.
The group also left their mark with a gift. Grade 12 student and artist Madison Young's banner that shows a silhouette of the late Mr. Sweetman surrounded by flowers will now hang proudly in the garden.
The banner first debuted downtown in the Downtown Banner Festival's celebration of North Bay.
"Chippewa would like to thank all volunteers and Madison Young for their great commitment to the community," notes Sarah Deschamps.