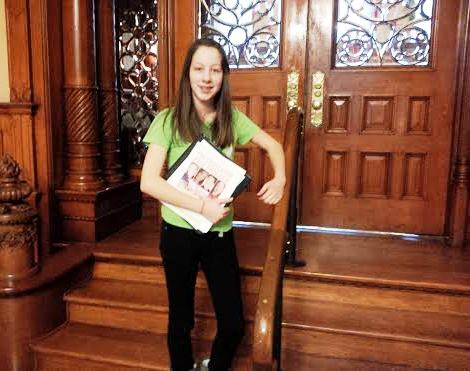 Near North District School Board
News Release
*****
Chippewa Intermediate School student Jaclyn Hurley has been selected to serve as a Legislative Page at the Legislative Assembly of Ontario in Toronto.
During her term of duty, tentatively scheduled from February 18-March 6, the grade 8 student will serve as a messenger on the floor of the Legislative Chamber, meet key parliamentary figures and learn about Ontario's parliamentary system of government.
Legislative pages selected from across the province come together at Queen's Park where they meet fellow students with similar interests as they participate in this unique program.
Jaclyn earned her spot in the program by submitting an application that included an essay outlining her achievements, involvements and suitability for the program.

During a typical day in the program, Pages arrive at Queen's Park at approximately 8:00 a.m., dress in their uniforms and then prepare the Legislative Chamber for the morning's debates.
As the day progresses, Pages are involved in a number of activities including delivering messages and water for MPPs in the Chamber, taking classes in legislative process and mathematics, and meeting the key legislative players such as the party leaders and the Speaker of the House.
The Near North District School Board is proud that Jaclyn will be representing her school and the Board in Toronto!
*****