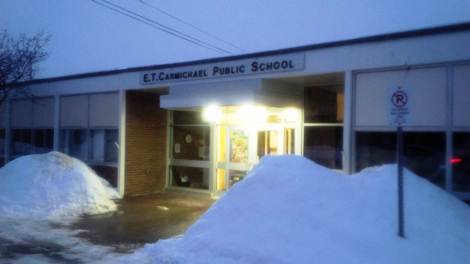 The chief of police met with the four local school board directors and the topic of a mistaken prowler in an area school was not on the agenda.
The police and the Near North Board dealt with a mistaken identity issue at ET Carmichael on March 5th, where a parent was mistakenly identified as an intruder who brought a 4-year-old into the school.
"It was not a topic we discussed," said Chief Paul Cook, who meets with the directors periodically throughout the school year.
Cook believes that through a number of initiatives such as the DARE and School Liaison programs, that the services' relationship with schools is likely in the top tier of the province.
"We have resources dedicated to the schools and enhance the service delivery with the four local school boards. Through our Youth Advisory Council we've been able to launch the YAK program which has helped engage students to be support for people in unhealthy relationships and who they might turn to," noted Cook stating a video produced by students through TWG Communications has been posted on the police service website.
Cook adds that in the new Police business plan there is a new section dedicated solely to Youth Crime.