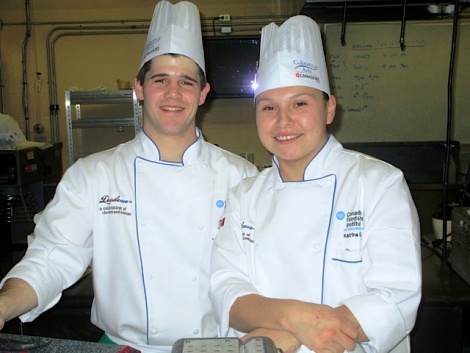 Canadore College
News Release
*****
Two Canadore College Culinary Arts students bore the winning fruit at the Battle of Ontario at the Decadence Gala last weekend.
This past Saturday, second-year Culinary Management student, William Arnaud, and first-year Culinary Management student, Katrina Orr, took first place at the Battle, presented by the Canadian Food and Wine Institute, against four other pairs of students from colleges across Ontario.
"I was so shocked that we won, we had such a simple dish," said Orr. "For the rest of my life, I will be able to say that I was a part of the winning team for this competition. No one can take that away from me."
The Gala was a weekend filled with fun, seminars, and arts and crafts, culminating with the culinary competition.
Throughout the evening, wines and beer created in the heart of the Niagara region were paired with dishes prepared by the students.
The judging panel was led by celebrity chef Anna Olson, international chef Richard Braunauer, award-winning chef and food entertainer Ted Reader and international food Olympics award-winner Chef John Cirillo, however each gala guest also cast their vote for the winning dish.
"I can say I was part of the team that won first place at this years competition for the rest of my life. No on can take that away."
Winners Arnaud and Orr prepared pan-seared arctic char and a maple syrup brûlée with kimchi and bannock for the event, which was inspired by a chocolate and icewine theme.
The Canadore students won a complete set of Le Creuset cookware and a Garland Canada induction cook top.
Canadore's Next Top Chef will take place on Saturday, March 22 at the College Drive Campus in North Bay, Ont.
*****