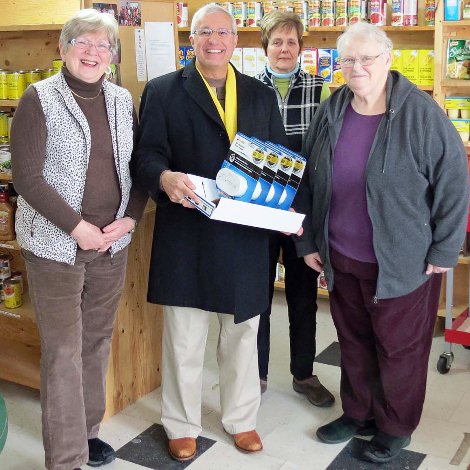 Nipissing MPP Vic Fedeli
News Release
*****
Nipissing MPP Vic Fedeli dropped by the Callander Food Bank today to donate six carbon monoxide detectors to raise awareness of a new law requiring them in Ontario homes.
Fedeli made a similar donation in December to the food bank in Powassan.
Bill 77, the Hawkins Gignac Act, received Royal Assent late last year, making carbon monoxide detectors mandatory.
The bill was proposed after the December 2008 tragedy in which Ontario Provincial Police Const. Laurie Hawkins, her husband Richard and their two children, Cassandra and Jordan, died of carbon monoxide poisoning in their Woodstock home.
The couple was originally from North Bay, and their deaths touched many in the community.
"CO detectors DO save lives," said Fedeli. "I can't understand why anyone would object to having a device that can save a life."
In 2009 while serving as Mayor of North Bay, Fedeli and City Council passed a bylaw making it mandatory for all homes in the City that have a fuel-fired appliance to install a carbon monoxide detector.
*****