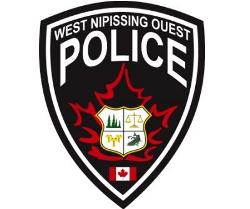 West Nipissing Police Service
News Release
*****
Between Dec. 20th, 2013 and January 02nd, 2014, the West Nipissing Police Service logged 284 calls for service. Among those were 75 9-1-1 calls, 45 Police Assistance calls, 7 Thefts, 5 Domestic Disputes, 4 Assaults, 3 Noise Complaints, 3 Unwanted Person calls and 2 Impaired Operation of Motor Vehicles.
A 34 year old Cache Bay resident was charged with Impaired Operation of a Motor Vehicle after police received a complaint of a vehicle in the ditch. On Dec. 21st police attended the Riverfront Dr area and spoke with the female driver.
The responding officer detected a strong odor of alcohol on the driver's breath. The accused provided a breath sample in the Roadside Screening Device registering a "FAIL".
She was then arrested and transported back to Headquarters and turned over to a Qualified Breath Tech.
Two breath samples were obtained registering an alcohol level of more than two and a half times the legal limit.
The driver was issued an automatic 90 day driver's license suspension and her vehicle was impounded for 7 days.
She was later released on a Promise To Appear.
On Dec. 25th, officers responded to a call of Domestic Violence at a residence in Cache Bay.
Information was received that an argument started between a female and her boyfriend which escalated to the point that the accused boyfriend allegedly beat and choked the victim.
The accused was later arrested and charged with numerous offences including Assault, Assault with a Weapon, Assault Causing Bodily Harm X 2, Possession of a Weapon for Dangerous Purpose and one count of Fail To Comply With a Probation Order.
He was kept in custody awaiting a Bail hearing.
On Dec. 27th police attended the Tim Horton's restaurant after receiving information that a male was breaching court orders by communicating with another male.
The officer observed the accused sitting at a table with a person which he had conditions not to communicate with.
The 20 year old male was arrested and charged with one count of Breach of Undertaking and later released on a Promise To Appear.
A traffic stop resulted in a 31 year old Barrie resident being charged with Impaired Operation of Motor Vehicle, Refusal and Assault Peace Officer.
On Dec. 29th officers observed a vehicle driving West on Front St in a careless manner. A traffic stop was conducted at the West end of Front St.
The officer immediately noticed the driver to be under the influence of alcohol.
He was arrested for Impaired Operation of a Motor Vehicle and brought back to the police station where he was turned over to a qualified Breath Tech.
During the breath tests, the accused driver refused to give a proper breath sample to be analyzed.
Also, while being placed back in the cells, the accused then spat on an officer.
The accused driver was later released from custody on a Promise To Appear and was also charged with Provincial Offences including Operating a Motor Vehicle Without Insurance.
On Dec. 31st, the WNPS received a call regarding an assault which had taken place at a William St residence.
Officers attended and were advised that a 34 year old female had assaulted her mother during an argument.
The accused was arrested and charged with one count of Assault and later released on a Promise To Appear with conditions not to attend her mother's residence and not to communicate with her.
*****