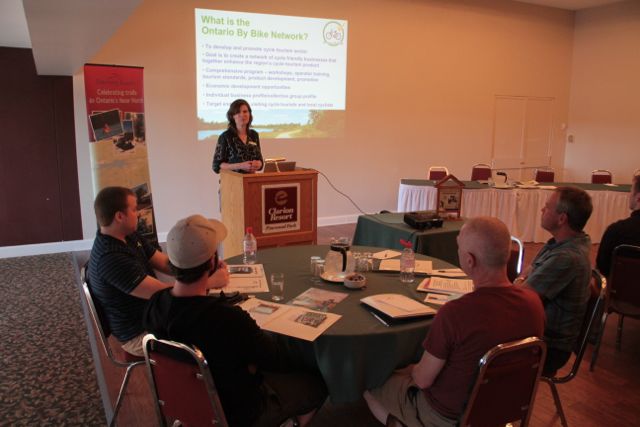 Louisa Mursell speaks to a crowd at the Clarion-Pinewood Park Resort about how to grow the bike tourism market in the region. PHOTO BY CHRIS DAWSON.
The Ontario by Bike Program peddled into the region on Tuesday and Wednesday to host a pair of workshops for local businesses to find out how to better connect to the growing cycling market in Ontario.
The first workshop took place at the Clarion-Pinewood Park resort where onlookers, including bike store owners and members of the hospitality industry were told how to become bicycle friendly through the Ontario By Bike Network.
"We are seeing all around Ontario and different regions more people taking bikes with them on holidays, renting bikes when they are at different destinations and really getting out there and making it one of the focal points of their holidays," said Ontario By Bike Network Transportation Options Executive Director Louisa Mursell.
"North Bay, Callander, Mattawa and the West Nipissing area have some great trail systems that are suitable for recreational cyclists and they also have some amazing road routes and some mountain biking facilities so letting cyclists know about that information and letting businesses know that they should connect with this growing market," she added.
The workshops are being led by Discovery Routes as a way to develop the region as a destination for cycle tourists.
"With a long history of promoting the vast network of trails in the region, moving into bicycle tourism is a natural evolution for the organization," said Jennifer McCourt, Executive Director, Discovery Routes Trails Organization.
"It's really an expansion of our existing trails network to market it to another segment of the population and another group of trail users that we haven't really traditionally targeted in the past because cycle tourists can use roads that connect to trails so it really is expanding our network of what we have in terms of marketability for the region," added McCourt.
Mursell noted some of the regional challenges here have to do with connectivity of the trail systems.
An announcement relating to a potenial solution to that problem is expected at the second workshop in Mattawa today where plans for a long distance cycling route connecting to area trails will be unveiled.