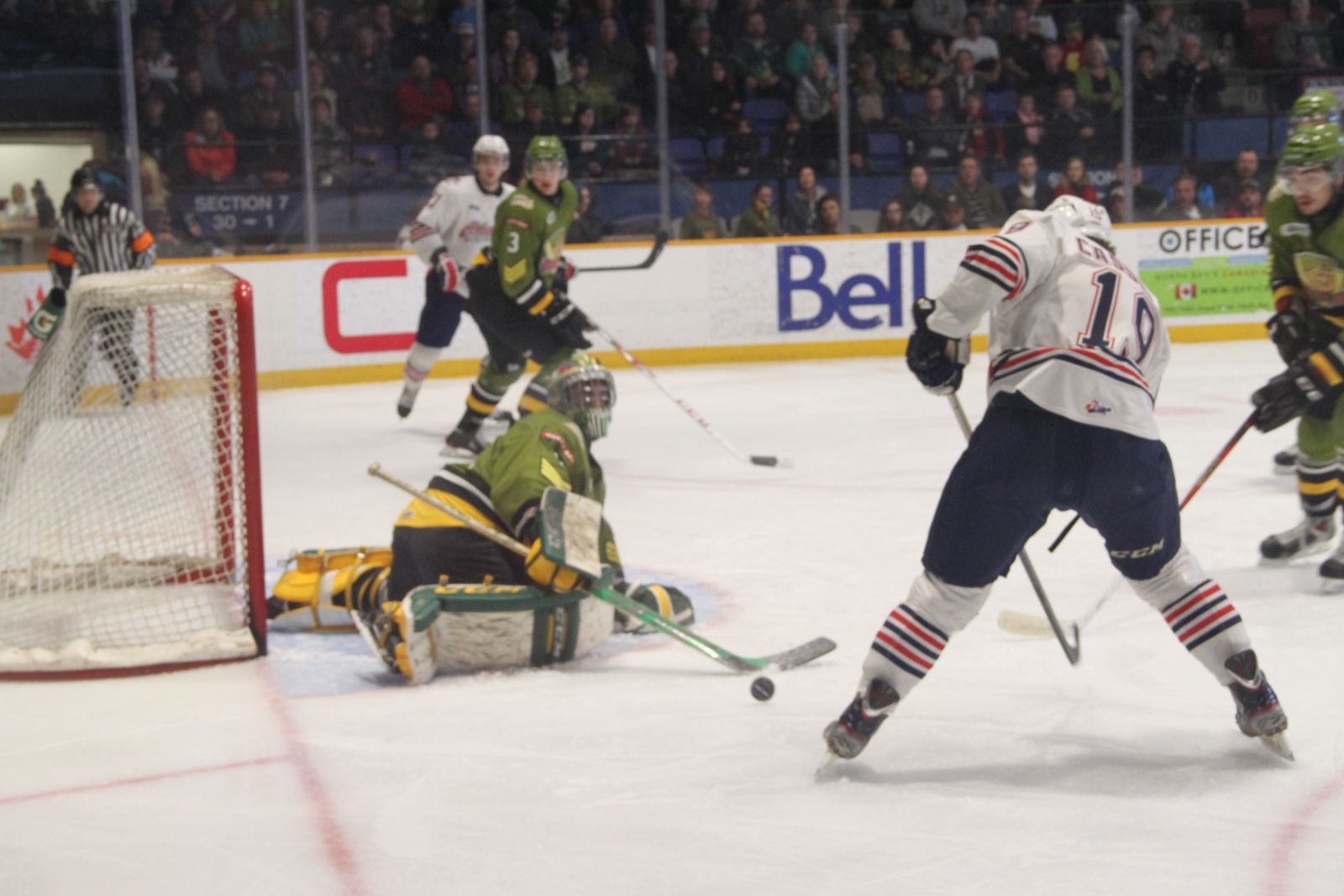 Full story will be found here: http://www.baytoday.ca/content/sports/details.asp?c=61120
Everyfone standdidng ...:07 left.....Troops win!!!!!!!!!
===
empty net....:56 left.....Goodrow breakaway, but caught from behind.
===
Troops on their heels now....Osh misses wide open net...lots of pressure on Smith.
===
Oshawa scores......Smoskowitz a wrister from right side. tied 2-2. Having internet connection problems....wow, what a time for this to happen!
===
Look for complete game wrapup and video highlights on this site shortly after the game.
===
NB winning most of the one on one battles for the puck. 11:00 left.
===
Praplan a great chance but fires it into Appleby's chest. Gens having trouble...all Gens standding at their bench...Troops all sitting.
===
McKenzie ends up in back of net with Appleby....where is puck....fans think its a goal but puck is cleared. Troops the better team so far. sog 24-21 Gens at 5:00.
===
Some good early chances by Gens...expect to see a lot of Laughton and Dal Colle this period. It's backup goalie Brendan O'Neil's birthday today. Appleby has lost his stick...D man gives up his....Troops controlling
===
The Battalion are aiming for their 4th playoff sweep in team history....here they come....expect the Gens to play desperate hockey with their season on the line. The Gens swept their two previous series.
===
Scoring summary....1st ...Marcus McIvor from Thomson and Paul at 16:22. , Dal Colle from Cassels and Laughton on PP at 19:44 to tie the game. 2nd, Henriksson from Miller and Paul PP 16:35.
===
2nd over...2-1 NB....sog 22-20 Osh.
===
1:00 left Troops buzzing all around Gens net...bouncing puck eludes them.
===
Rebound given up by Appleby, and Henriksson backhands it in front a couple of feet in front of the net with the goalie down.
===
Miller fires ofne just over the top of the net...but few other chances....Henriksson scores!!!!!!! 2-1.
===
Penalty over...now Gens take an interference penalty....5:06 left. Troops on PP.
===
Good penalty to take....may have saved a goal as Smoskovitz was trying a wraparound.
===
Another Troops penalty....this time Miller for slashing 7:30 left.
===
Gens pressing hard...Smith stones them...8:30 left....1-1...sog 18-16 Gens.
===
Ad for Cecil's Eatery flashes on the big board....great beer selection. Nice to see local business supporting the team.
===
Wood a shot from the point...Appleby didn't see it...hits nim in the arm and he smothers it.. PP over.
===
Finally a Gens penalty...Laughton for slashing. Troops on first PP...crowd appreciated the call, applauding enthusiastically.
===
Neat, someone in the crowd brought a trumpet. Gens slight edge in play so far...sog 15-13 Gens at 5:00. Score 1-1.
===
Back to 5 on 5...Dal Colle shoots...Smith saves. Geez Dal Colle is a dangerous guy...leads team with 18 playoff points.
===
Cassels also off....didn't catch call.
===
Goodrow leads all Troops with 22 points....11-11. Another penalty to Troops...McIvor for slashing at 1:18. Osh on PP.
===
Thanks to Chris Dawsodn for the updated pictures.....1 minute to start.
===
Crowd chanting "We want a ref" as period ends. sog 12-11 for Gens.
===
Dal Colle scores on PP with :15 left on a slapper from the right side of Smith...beats him cleanly. 1-1.
===
1;30 left in period...anaother NB penalty, this time to Thomson for roughing.
===
Marcus McIvor from Thomson and Goodrow at 16:22. Goodrow a points machine....leads all troops.
===
Troops score off point shot!!!
===
Flurry of shots by NB, all around the net....2 or 3 saves by Appleby. Action picking up.
===
Troops #1 in penalty killing and it shows...even play so far althought Osh had a pretty good PP chance. Shoutout to Kelsey Richard who does the crowd interviews, presently vacationing in the Maritimes. You are missed. Physical play picking up.
===
TV timeout.. big cheer for guy painted all in green with huge fake beard on the big board. Sellout again....
===
Huge stop by Smith, Wow...how did he gets across the net that fast....off stick of Cassels....shots 3-3...penalty over.
===
Troops kill but Thomson gets a hooking call...just 1 pp shot by O.
===
2 0n 1 with McKenzie and Lewis with :26 left in penalty...save Appleby.
===
Interference penalty to Jarvis, Osh on PP.
===
Troops first shot by McKenzie at 4 min mark
===
First shot goes to Osh Hunter Smith, stopped by Troops Smith.
===
Both teams skating well...Miller just misses with a wrister...no shots yet.
===
Penalties already after a mixup next to Osh net. Laughton and Thomson off after 30 sec. for unsdportsmalike conduct.
===
Excellent job by Lisa Benoit on the anthem, again with fans singing along. Game on!
===
Sarge is waving a flag with the number 7 on it for the seventh man...the North Bay fans.
===
Sarge is out...here come the Troops to huge cheers and bells ringing!!!
===
Scratched ...Evan Cormier, Shawn Tessier, Mike Baird, Zach Bratina with a concussion, and Calvin Gomes. Riley Bruce is a game time decision. Refs are Micheael Cairns and Scott Ferguson.....working on the Baytoday team tonight with me is Chris Dawson doing video hilights.
===
Starting lineup for the Troops...Ben Thomson-Nick Paul-Barclay Goodrow, Vincent Praplan-Mike Amadio-Matt MacLeod, Connor Jarvis-Jamie Lewis-Matt Santos, Jared Steege- Brett MacKenzie-Alex Henriksson. On D, Dylan Blujus-Marcus McIvor, Brenden Miller-Kyle Wood, Miles Liberati-Kyle Locke.
===
The Bobby Orr Trophy for the Eastern Conference Champions is in the building. The famous Bruin ironically manned the blueline for the Generals in his junior hockey days.
====
The front entrance was busy around 4 pm as there was a tailgate party in the front of Memorial Gardens which started at 4 pm.
===
Appleby is 1-1 in the Gardens versus the Battalion this season including a 3-0 loss in March and a 3-2 win in February as Appleby stopped a last minute penalty shot by Nick Paul to salvage the road victory for the Generals.
===
In goal for Troops Jake Smith has started every game so far.
===
Lot more signs in the crowd, people with painted faces
===
Big news tonight is that local product Ken Appleby will start in goal for Oshawa. I'm sure there are lots of NB fans wishing him well....but not too much. Troops out for warmup..Reat atmosphere outside with a beer garden and bbq in the sunshine.
===
Good everning & welcome to game 4 of the Eastern Conference Final...NB leads 3-1 and I noticed a lot of fans coming in with brooms.....hmmm what could that mean....no jinxing here:) It;s 6:15...about 45 minutes till puck drop.