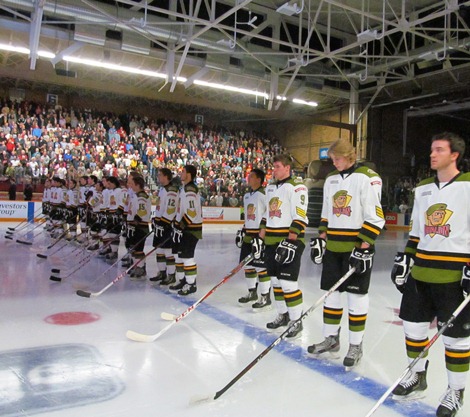 The Battalion, seen here in the home opener, will lineup Friday night in front of a packed house in Oshawa. File Photo.
The final four begins in Oshawa Friday night as the Battalion and Generals begin their Eastern Conference Final.
The two top seeds in the East are both known for being defensively sound, hard forechecking teams.
The Gens roll into the conference final on a roll. They swept through the first two rounds of the playoffs, sweeping the Mississauga Steelheads in 4-straight and then did the same to the Peterborough Petes in round 2.
The Battalion come in after battling through a tough 7-game opening round series against the pesky Niagara Ice Dogs and then got by the Colts in 6 games thanks to a 3-2 win in game 6 in Barrie last Sunday.
The 2 teams split the season series 2-2, but head coach Stan Butler says disciplined hockey will be key in the first 2 contests in Oshawa.
"They have a very good power play and your power play is always as good as your players and they have some really talented offensive players," said Battalion head coach Stan Butler on a league Media Conference Call on Tuesday.
A fan bus, organized by the Battalion Fan Club, is leaving North Bay at 1 pm today, Expect the North Bay crew to be loud and proud Friday night in Oshawa just like they were in game 6 in Barrie.
History
It's been a while but the last time North Bay and Oshawa competed in a series was way back in 1986-87 when the Generals won a 7-game Super Series which allowed Oshawa to go to the Memorial Cup.
That North Bay team was led by future NHLer David McIlwain.
Meantime, Battalion coaches Stan Butler and John Goodwin have some Generals history as well.
Butler coached Oshawa for two seasons starting in 1994-95. John Goodwin, who's in his first season as a Battalion assistant, worked with Butler in the same capacity for Oshawa before spending a third season under Bill Stewart as the Generals won their most recent OHL championship.
Goodwin then served three seasons as Oshawa's head coach starting in 1997-98.
"It was a great place to start as a coach," said Butler on www.battalionhockey.com.
"When I was there, there were people like Wayne Daniels and Frank Jay working with them, and it was an organization that was always successful. I learned how to do things the right way and how to put together a competitive organization."
The Goalies
While North Bay's Kenny Appleby played in goal for the Generals in the last 2 contests in North Bay, don't expect to see him in goal this series.
Carolina Hurricanes 2012 3rd round pick Daniel Altshuller has been in goal for all 8 Generals playoff wins and will be tough to beat. He sports playoff league best 1.50 GAA and a rock solid .939 save percentage.
Jake Smith, who has been a huge part of the Battalion playoff success, sits second in OHL playoff goaltending stats behind the Nepean, ON product. Smith has a 2.03 GAA in 13 games along with a .916 save percentage.
Butler says this series will be a big challenge for his undersized netminder.
"He was our backup last year and he was put in the playoffs and performed real well," noted Butler about his play in the 1st round loss in 2013 to the Sudbury Wolves.
"He's a battler. He's not your prototypical goaltender. I compare him to a guy like Manny Legace, an extremely athletic goaltender that competes really hard."
The Mayors
Meantime, the mayors have gotten into the OHL playoff excitement.
North Bay Mayor Al McDonald and Oshawa Mayor John Henry have agreed to a challeng via twitter.
The losing Mayor will have to wear the other team's jersey at City Council for a day and McDonald has offered Henry 2 North Bay made Escape Movement T-Shirts as part of the deal.
The North Bay Police Service Flag flew proudly in Barrie this week as part of a friendly Wager between North Bay Police Chief Paul Cook and Barrie Police Chief Kim Greenwood.
Live Blog
You can follow our live Blog starting at 6:45 Friday night.