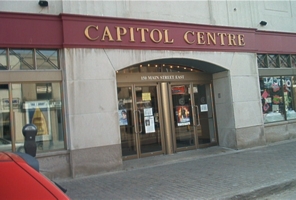 The Northern Ontario Premiere of the international award-winning film Watermark airs in North Bay on June 6 at the Capitol Centre.
Watermark is the second visually-spectacular collaboration by renowned filmmaker, Jennifer Baichwal, and world-famous photographer, Edward Burtynsky.
Watermark probes the meaning and importance of water to ordinary people throughout the world using diverse perspectives, vivid breath-taking imagery and thought-provoking insight.
Watermark is currently being premiered and feted in the capitals of the world – London, Paris, Tokyo, New York – and North Bay.
Citizens of North Bay and Nipissing District are invited to join Mayor Al McDonald and Ontario's Environment Commissioner Gord Miller for this premier event.
Filmmaker Jennifer Baichwal will be on hand to answer questions and talk with the public after the screening and during the post-film reception for all ticket-holders.
Tickets are available at the Capitol Theatre box office and online at www.capitolcentre.org . Price is $14 in advance, $17 at the door and children under 12 free. The reception is included in the ticket price.
The Northern Ontario Premiere of Watermark is being hosted by a collaboration of North Bay citizens , area environmental organizations such as Greening Nipissing and the North Bay-Mattawa Conservation Authority, and the Water Docs Film Festival. Water Docs Film Festival, held every March in Toronto at the Art Gallery of Ontario, is a multifaceted 10-day event committed to all things water. It is the mission of the Water Docs Film Festival and the North Bay Collaboration to recover a sense of reverence for water, to inform about issues that threaten water, and to inspire citizen action to protect water.
For information on the Premiere, including a view of the film trailer, visit www.waterdocsnorth.ca .