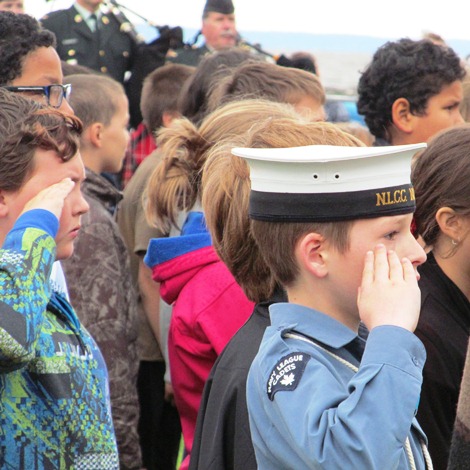 Area students show respect for the men and women of the Canadian and American military services during Armed Forces Day celebrations at the North Bay Waterfront on Wednesday. Photos by Kate Adams.
The crisp, damp air didn't stop about a thousand residents, young and old, from donning red shirts (and jackets), and heading down to the waterfront to thank the men and women of the Canadian and American military for the work and sacrifices they make for our sovereignty.
Armed Forces Day celebrations started with a military parade through the streets of the city led by the 8 Wing Trenton Pipes and Drums that ended at the band shell where Mayor Al McDonald and 22 Wing Commander Sean Boyle reviewed the troops.
Addressing the crowd Col. Boyle noted that Armed Forces Day here in the Bay is the envy of Canadian military members across the board as it is the most diverse and consistently draws the largest crowd of all the celebrations.
"Many bases across Canada celebrate "Canadian Forces Day" here in North Bay we call it "Armed Forces Day" in defense to our US military partners who you see here today and work alongside RCAF personnel every day assuring the air defense of North America through NORAD.
"22 Wing he's proud to host the largest detachment US military personnel in Canada. As part of our joint military team here in North Bay, you will also see amongst the blue Air Force uniforms, the Army uniforms of North Bay's Algonquin Regiment and 33 Service Battalion."
"The Canadian Armed Forces is small but mighty and our success is directly related to joint interoperability. No matter what color of uniform you wear in Canada, mutual respect and teamwork ensures mission success. I count myself privileged to serve together with you all and together strengthening the military connection with the North Bay community"
Before wrapping up the events with the much anticipated CF-18 Hornet aerial show there were a number of presentations including one from Alexie Levac to the Search and Rescue Team of 424 Squadron Trenton.
The team helped locate the young Lavigne girl last July, when she was lost in the bushes of West Nipissing.
Respect, honour, and saying thank you were clearly the messages of the day from the folks who were at the podium.
"Thank you to all the men and women of this great nation who served in the Army in order to maintain global peace and prosperity," says Nolan Desjardins a Grade 11 student from Algonquin during his address.
"And those brave courageous soldiers who have died for the protection of this great nation that we are so proud to call home, we salute you for your honorable service"
NNDSB Student Trustee Regan Jackson echoed Desjardins sentiments.
"While we go to school, socialize with our friends and enjoy our families, the men and women far on forces are hard at work protecting us and building a better world."