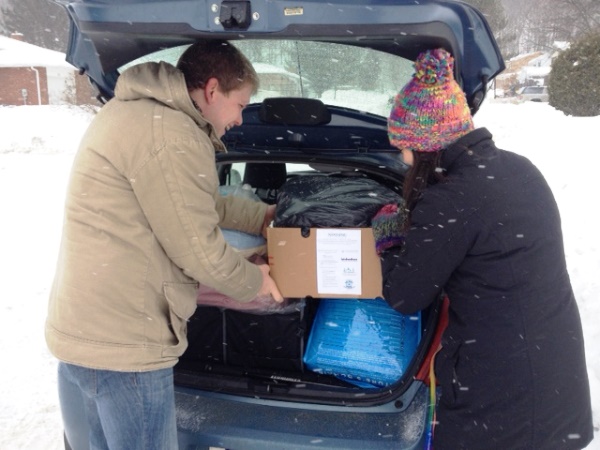 Evan Newman and Sam Lee load up a car full of donated clothing. Photo by Dennis Chippa.
Evan Newman had a busy day away from classes.
He and several members of the Nipissing University Social Welfare and Social Development student club and the Biidaaban student initiative spent their day on a clothing drive through the Thibeault Terrace area of the city.
Newman says the idea was to take some residents' gently used clothing to hand out to those in need, something he says is a continuation of work already started before the holidays.
"We kind of organized something last fall just up at the school and collected a bunch of stuff down at the warming center. And this time we just decided to reach out to the community a little bit."
The club members aren't strangers to this part of the city.
Many live in Thibeault Terrace, and last fall, besides the clothing drive, students from both programs spent a weekend cleaning the streets and picking up garbage.
To prepare for Friday's drive, students handed out about a thousand flyers throughout the area, as well as throughout the school community.
Friday was collection day and Newman says the response has been pretty good, from both the community and the university.
The next step is the sorting before distributing what they have to those agencies that can use the clothing.
"The plan is it's all going to go up to the Nbisiing High School and the Office of Aboriginal Initiatives is running a community service training program tomorrow and they're going to have their students sort it all out and catalogue it and see who needs what within the community."
"We'll see what we have in terms of what's for kids, what's for adults, what sizes all that, and then we'll reach out early next week and see who needs what in North Bay. But we also might see if there's a need in Sturgeon Falls, because we feel that's an area that maybe doesn't have as many agencies to serve the people there."
The students say they enjoyed the initiative, and plan on making it a regular part of the Social Welfare and Social Development club's outreach.
In fact, Newman says he's hoping the program can expand to a larger part of the city.