From tourism to biomass to industrial development, Wiikwemkoong Unceded Territory is juggling a diverse portfolio of projects all designed to boost the prosperity of its people.
The community, located along the eastern shores of Manitoulin Island in Lake Huron, is guided in its work by the Wikwemikong Development Commission (WDC), which was incorporated on Sept. 5, 1973. It's also known by its Anishinaabemowin name, Enaadmaagehjik, which translates to "People Helping People."
From its inception, those who have been charged with guiding the community's economic future have taken those words to heart, strategically seeking out projects that bring returns both social and economic.
Now, as the organization enters its sixth decade, the community is poised for substantial growth.
"We're growing, and it's coming fast," said Mary Lynn Odjig, general manager at the commission.
Luckily, they're ready for whatever comes their way.
"I'm just surrounded by really good people," Odjig said. "They are so talented, they're experts in their fields, and I really rely on them to grow the economy and help meet the demands of our community as well."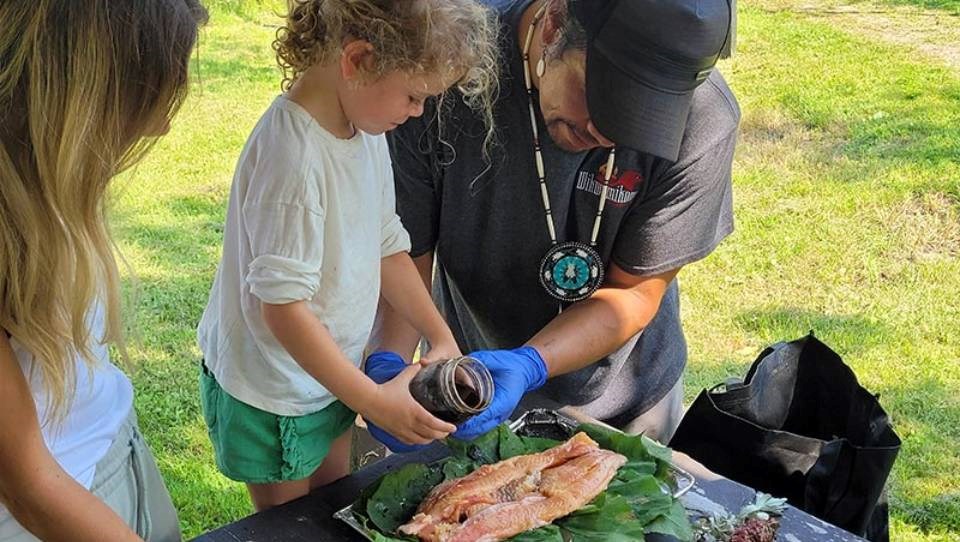 Tourism efforts breed 'banner year'
Luke Wassegijig, who heads up Wikwemikong Tourism, said the organization is experiencing a "banner year," with the development of new attractions and national recognition from the Indigenous Tourism Association of Canada.
Wikwemikong Tourism specializes in offering authentic Indigenous cultural outings, ranging from traditional food sampling to historic tours to nature hikes. These types of experiences are favoured by cruise ship passengers, group bus tours and individual travellers visiting Manitoulin Island.
As more people become aware of the legacy of residential schools and their impact on Indigenous peoples in Canada, Wassegijig said one of their more popular tours has become The Unceded Journey, which tells the history of Wiikwemkoong and Manitoulin Island.
"You're seeing more of an authentic visitor that's coming, especially in the post-Kamloops era when you're getting people that are genuinely looking for some type of reconciliation," he said.
Want more business news from the North? Subscribe to our newsletter.
Meanwhile, Point Grondine Park, located south of Sudbury, near Killarney, has skyrocketed in popularity among domestic travellers.
The 18,000-acre backcountry wilderness park offers visitors hiking, paddling, and camping experiences, as well as nature-based school and group tours.
It became a haven for travellers from the GTA during the earlier days of the pandemic, and now, Wassegijig said, they're returning for regular pilgrimages.
Building on that momentum, Wikwemikong Tourism has started construction on an eco-resort within the park. The first of two cabins was completed this year, and work has begun on a 13-site campground, which will eventually be accompanied by a gatehouse and visitor centre.
"There's a big demand for (eco-tourism), especially in this post-COVID world," Wassegijig said.
"We're seeing a lot more travellers coming to (Point Grondine) and coming to experience outdoor recreation."
The Unceded Journey historical tour has become one of Wikwemikong Tourism's most popular offerings. Check out the video below for a preview of this cultural experience:
Golf course seeing a boost in popularity
In nearby Manitowaning, Rainbow Ridge Golf Course is also in line for some upgrades.
Owned and operated by Wiikwemkoong for more than two decades, the 18-hole golf course sits on close to 500 acres, including a seven-acre island in Manitowaning Bay.
Last year, the facility awarded the clubhouse's food and beverage contract to Joseph Shawana, a renowned Wiikwemkoong-raised Odawa chef who operated Toronto's Kūkŭm Kitchen until 2019.
John Dube, Rainbow Ridge's general manager, said golf became a "safe" outdoor pastime for people during the pandemic, and the course's numbers have remained strong compared to pre-COVID levels.
"We're looking at the next step to bring in other things on the properties that are surrounding the golf course and near the golf course," Dube said.
That might mean new accommodations as part of a stay-and-play package, or other unique lodging that ties in with the cultural activities offered by Wikwemikong Tourism.
"We want to make sure it's an attractor to bring people into our community as well," Dube said.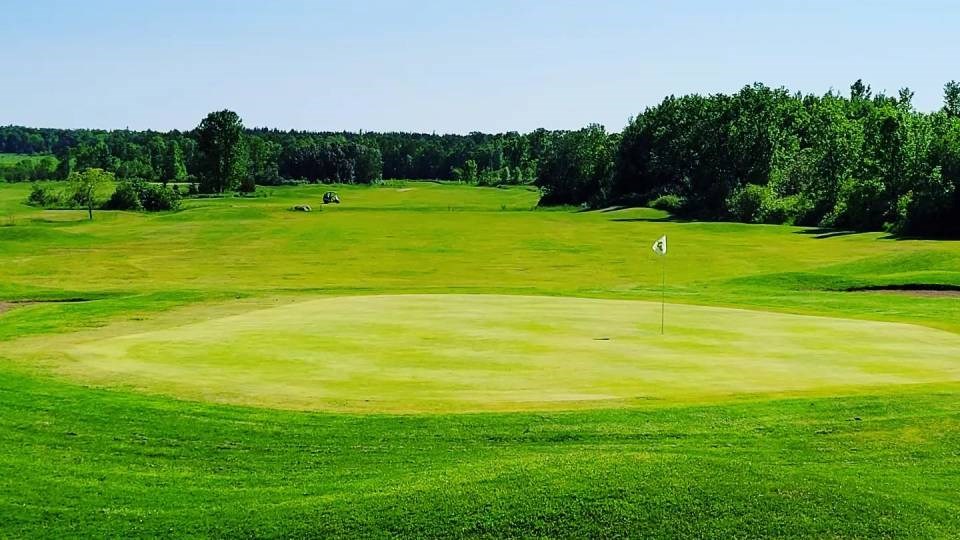 Beyond tourism, the commission is planning infrastructure upgrades to help boost residential and business growth.
FirstTel, the community-owned phone, cable and internet service provider, is eyeing an expansion of its services to come in line with broadband upgrades proposed by H&M COFI.
Funding was awarded in 2021, and H&M is currently in the planning stages of extending its fibre network across the North Shore of Lake Huron.
If successful, FirstTel could expand its offerings beyond the main village of Wiikwemkoong to provide internet service to the outlying areas, as well as other communities across Manitoulin, said Joe Corbiere, FirstTel's controller.
"Right now we're pretty much at capacity, so with this new project coming in, it'll help us continue to grow our customers," he said.
Currently, the company operates with a small contingent of three — Corbiere, an installation technician and a customer service representative — but the expansion would require them to more than triple their capacity, which would mean training and job opportunities for additional community members.
"Things are looking like they might be busy in the fairly near future," Corbiere said.
Biomass offering energy alternative
Perhaps the most intriguing project on the books is a community energy plan, launched in 2017, which aims to move residences and community buildings away from the use of fossil fuels and onto biomass instead.
Starting small, the community changed its streetlights and community buildings to LED lighting before moving to 10-kilowatt microfit projects and net-metered solar arrays, noted Nikki Manitowabi, the Wikwemikong Development Commission's business development strategist.
At the next stage, the community converted eight of its community buildings to run on pellet furnaces, along with 42 residences. They've since established a pellet distribution centre with a storage facility and delivery service.
"If you look at it from the big picture, we've been able to reduce our greenhouse gas emissions through moving away from fossil fuels and using pellets," Manitowabi said.
The decision was prescient, she noted, as it puts the community's goals in line with the province's biomass strategy, which was revealed last March.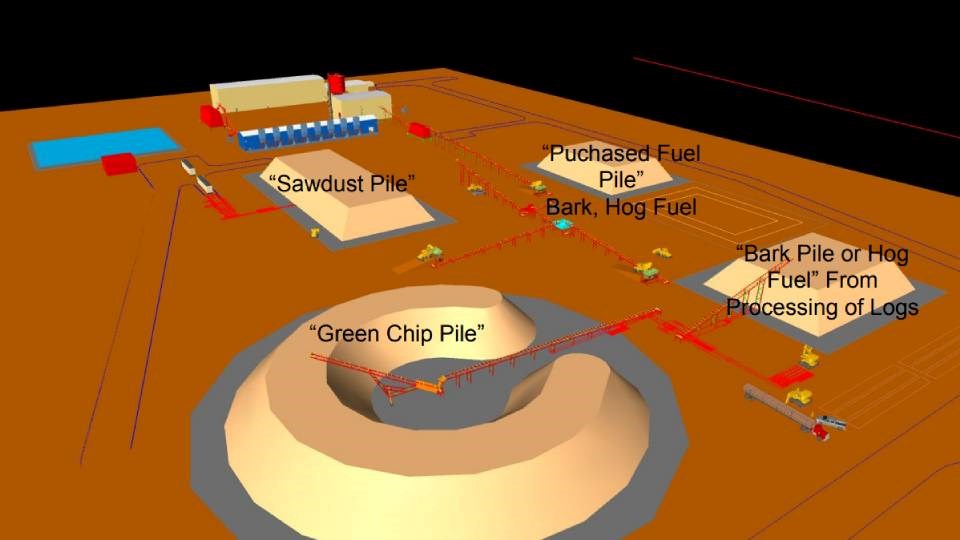 All this is leading to a bigger goal: wood pellet manufacture and distribution.
Work is ongoing on a proposed manufacturing plant with a production capacity of up to 150,000 tonnes per year, which would source fibre from the Sudbury, North Shore and Spanish forests.
Land has already been purchased in the nearby community of Nairn Centre, adjacent to a sawmill, and studies related to engineering, transportation and connection to the transmission line have been completed or are ongoing.
"When they started the project, at the time, the leadership really wanted to participate in the mainstream economy, and they wanted to be active in resource development," Manitowabi said.
"Because we had a history of members that have worked in the forestry sector, this seemed to be a really good fit and so that's why they chose to look at pellet manufacturing."
Right now, Manitowabi said, the commission is looking at what biomass product would be most economically favourable. In particular, they're considering what types of products would appeal to large emitters, such as those in the mining and forestry sectors, that will be taxed based on carbon production.
"I think we're in a good position because of the developmental work that we've done, and the design of the pellet manufacturing plant is not going to be much different for any other biomass product," Manitowabi said.
"Looking at the three forests, there's underutilized, unmerchantable fibre that's available, so we have those studies done as well.
"We're sort of at a stage where we're talking to different companies and we're looking at some more studies just to see if it's viable to look at other products."
Population growth a welcome sign
Though Odjig welcomes these signs of growth, the community is now bursting at the seams.
All the building space in the community's 140-acre light industrial park is rented out, and office space in the recently built 9,000-square-foot strip mall filled up a year after it opened.
The community has been approved for a brand-new 100-bed nursing home, plans are in place to build a new school, and an expansion of Wiikwemkoong's policing services has also been approved.
To accommodate all the growth, Odjig predicts more development to come and credits the foresight of the community's leadership over the years with enabling the commission to seize on opportunity as it arrives.
"The leadership has to support you to move forward, and the community has to believe in you and support you, too," she said.
"So I think that's a big part of our success."