Welcome to the 2022 Holiday Gift Card Auction!
Thursday, November 24 at noon to Tuesday, November 29 at 7:00 p.m
Please READ THE RULES, particularly the part about credit card authorizations. In short, each time you place a bid, the system places a hold authorization for that amount on your card. When you are outbid, the hold is released. If you bid $50 on ten different items, this means $500 of your available balance will be unavailable until you're outbid. Any winning bids at the end of the auction are captured - meaning your card is charged. We recommend you use a credit card, not a debit card for this auction. A released hold may take several days to reflect on your statement.

What happens if I win?
After the auction closes, it may take us a few days to process the results. If you have won an item, you will receive a confirmation email, which will contain pick up instructions. For any auction related questions, please email [email protected]
Closed on Tuesday, November 29, 2022 7:00:00 PM
---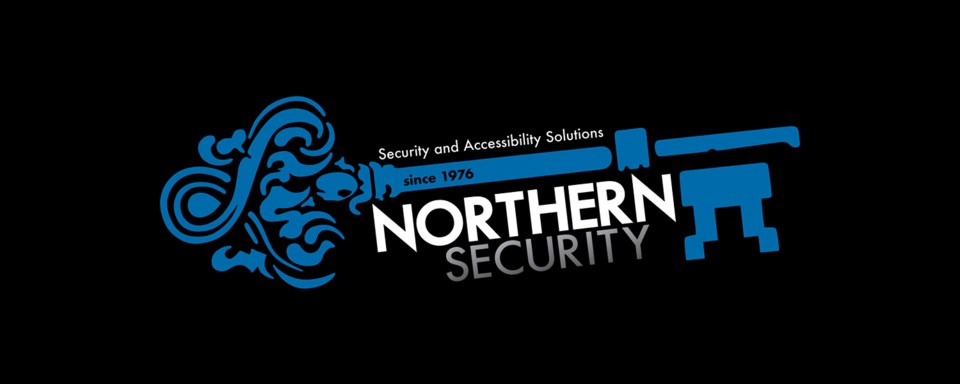 About Northern Security
OUR STORY
Northern Security is a family-owned-and-operated company that started as a locksmith providing customers with mobile services. As our customer base grew, we opened our first store on Elm Street. Today, we serve a broad range of clients across Northern Ontario.
It all began on a beautiful spring day in 1976, at an Oak Street duplex in the west end of Sudbury. Tony and Ellen Pagnutti were sitting at their kitchen table, discussing their plans of becoming entrepreneurs, and thinking how the locksmith trade would be the perfect fit for their skills and personalities. It was that day Northern Security was founded.
It is kind of hard to believe, but Tony and Ellen learned the craft through a mail order course, which they immediately applied to real-world experiences. Since day one, the core principles of treating the customer fairly while ensuring their safety and security held true. As Tony and Ellen honed their skills, they charged customers a flat rate for every service, regardless of how long it took.
While the business was still growing, Tony worked the graveyard shift at CP Rail while Ellen did the paperwork. If a call came in while Tony was sleeping, the car seat was loaded, and Ellen would do the work with their new baby in tow.
After a while, Tony left his job at the railyard to keep up with the growing business. Throughout the city, hardware was repaired, deadbolts were installed, and people were given access to their houses, cars, and businesses. Their desire to help and make people feel protected was insatiable for the young couple. The need for a storefront and some extra help was quickly evident.
Today, another generation has taken over. The baby who was brought to those nightly repairs took over the business. Mike Pagnutti, son of Tony and Ellen, has grown Northern Security into one of the largest and busiest security companies in Northern Ontario. No other company offers the breadth of industry knowledge, skills, and expertise that they do.
Although now retired, the values of Tony and Ellen are still evident in every part of Northern Security.
VALUES

Our decisions and actions are guided by the following values:
The safety and security of people and their belongings are the foundations of our work. We share in the responsibility of continually improving the safety and security of residential homes and commercial workspaces.
We value the contributions and input of every employee and customer. We treat people fairly by demonstrating our respect for individual dignity and cultural diversity. By being open and honest, we achieve the strong relationships we seek.
Through personal and professional integrity, we lead by example, earn trust, honour our commitments, and conduct our business ethically and professionally.
We pursue excellence in all that we do. Through years of experience, leadership, collaboration, innovation, and technology, we strive to achieve our full potential and inspire others to reach theirs.
Flagship Store and a New Location
The succeeding years saw our company offering more services and products to a wider range of home and business owners all around Northern Ontario. After a few store relocations around the city and the addition of more personnel, we settled downtown where our flagship store can now be found at 41 Lorne Street and our new location at 310 McIntyre West in North Bay.
Security and Access Systems
In keeping with the technical advancements in the field, we have since branched out into the retail of security and access control systems. We now offer:
Power-operated automatic doors
Camera surveillance systems
Alarm systems
Electronic card access systems
Programmable automotive keys and remotes
Home Automation
310 McIntyre St W
Address

310 McIntyre St W

Phone

(705) 476-2254