When it comes to finding the perfect place to call home, there's no shortage of factors to consider.
From the cost of living to the quality of education, there are countless variables that can impact your decision - especially when it involves where you're considering raising your family. After all, this is where you'll be building a future for yourself and your loved ones.
For those thinking about laying down roots with their family, Yore Oyster, a personal finance and investment company, studied which cities in Canada were the best places to raise a family.
The study evaluated 27 cities across the country, scoring them on a range of criteria from cost of living to quality of life with the goal to help families make informed decisions about where to move and build a happy, healthy home.
When examining the monthly cost of living in Canada for a family of four, unsurprisingly, Vancouver and Toronto are significantly pricier than other Canadian cities, and the city that is most reasonably priced is Trois-Rivieres, which was ranked at the top of the list. Quebec City came in second, with its modernity, culture, nature and low crime rate all earning recognition.
Ontario is home to nine of the best cities in the country to raise a family, including the likes of Ottawa, Guelph, Barrie, Kingston, Kitchener, Windsor, Toronto, Peterborough, and London.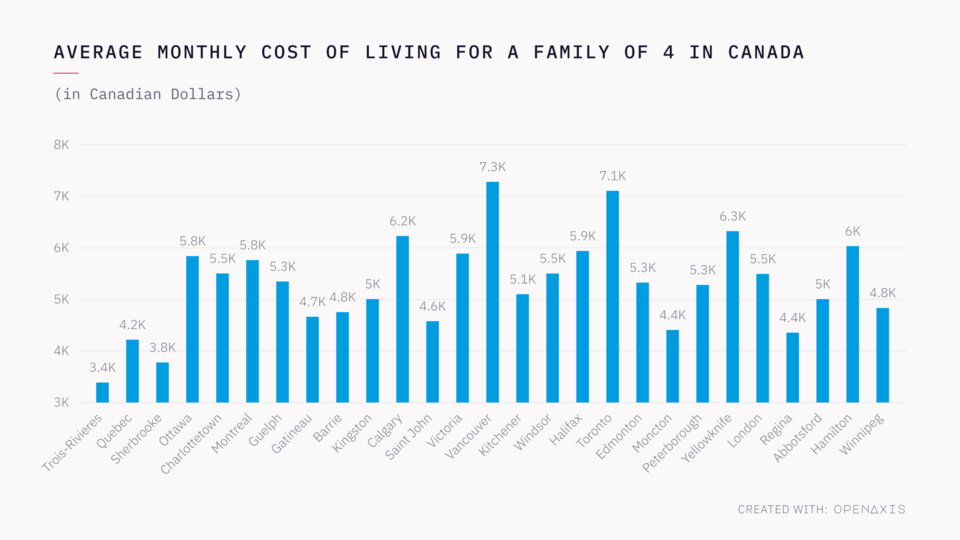 According to the study, these are the best cities in Canada to raise a family:
Trois-Rivieres
Québec City
Sherbrooke
Ottawa
Charlottetown
Montréal
Guelph
Gatineau
Barrie
Kingston
Calgary
Saint John
Victoria
Vancouver
Kitchener
Windsor
Halifax
Toronto
Edmonton
Moncton
Peterborough
Yellowknife
London
Regina
Abbotsford
Hamilton
Winnipeg
According to the study's findings, the cities that placed high on the list were relatively affordable and had lower crime rates. And while larger cities like Vancouver, Calgary, and Toronto made the list, they scored behind several more affordable Canadian cities.
You can learn more about each city and how they ranked by checking out the full study online.