ParaMed is proud to offer an attractive signing bonus of up to $2,000 for those successful part-time and full-time applicants hired for two local positions. Additionally, in partnership with HealthForceOntario (HFO), ParaMed provides eligible nurses a retention bonus of $25,000 in exchange for a two-year full-time commitment through the Community Commitment Program for Nurses (CCPN).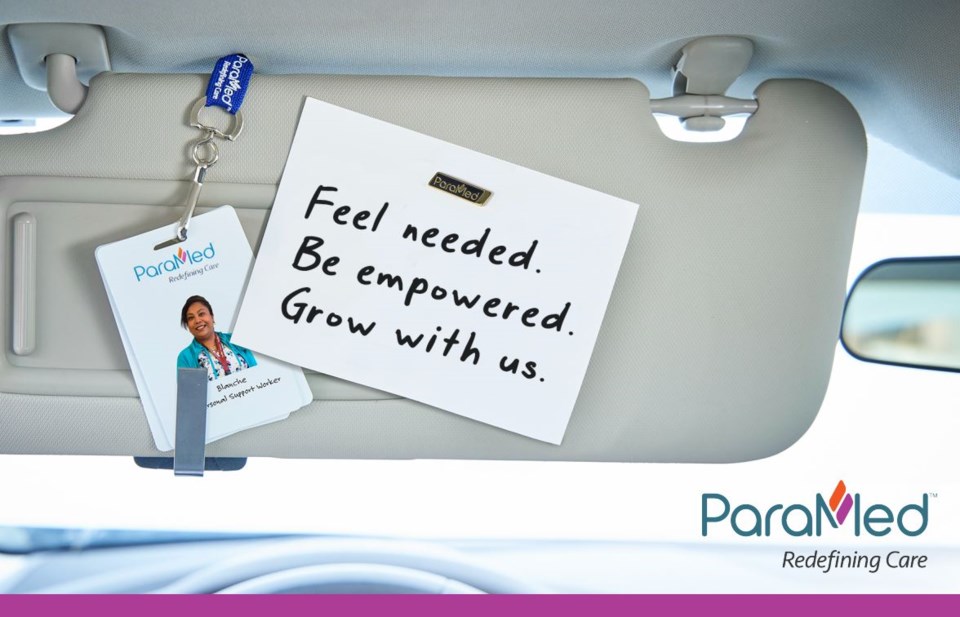 ParaMed offers competitive compensation, health and dental benefits, access to a mobile device, mileage/travel allowance, ongoing training and skills development, career advancement opportunities, employee purchase discount programs, autonomy and independence – all within a supportive and respectful workplace.
As they continue their 40+ year tradition of providing the most compassionate care possible, you can be confident that your skills will be put to good use in making lives better. Come join them and succeed together.
As a nurse at ParaMed, you will be responsible for providing ethical and safe nursing care to ensure the safety of clients. You will engage clients in a collaborative manner, build rapport and trust in order to identify their actual and potential healthcare needs, strengths, capacities, and goals.
In addition, you will obtain informed consent prior to service and use appropriate assessment tools/techniques to assess the client. You will maintain professional boundaries with clients and healthcare teams as well as create and update client records that are in compliance with ParaMed's policies and the standards applied by the regulatory body and Nursing College. You are also expected to work collaboratively with a multidisciplinary team as well as perform any other duties related and tasks assigned from time to time.
If you're interested in applying for this position, Paramed requires that you are a Certified Registered Nurse (RN) or Registered Practical Nurse (RPN) in good standing with the CNO. Knowledge and experience in community nursing and working with vulnerable populations are preferred, as well as having access to a personal vehicle and a valid driver's license in order to travel to patients' homes. You must also be able to demonstrate excellent communication and organizational skills, have the ability to work under pressure, and have good problem resolution skills. Additionally, you need to be flexible enough to work multiple shifts including evenings and weekends, as well as pass a criminal record check.
Positions are open in both Sault Ste. Marie and North Bay. Click here to learn more and to apply. ParaMed looks forward to welcoming the newest members of their team!