The air is crisp, fallen leaves crunching underfoot, my coffee cup warming my hands as I stand on my porch. These are my favourite mornings. The ones where the sun catches the auburn treetops, and the days grow a little shorter, reminding us that winter is approaching.
Welcome to fall in Northern Ontario. The fall colours here are a remarkable sight— time it just right and there is a blanket of orange, red and yellow as far as the eye can see. The colours are often at their peak between mid-September to mid-October. Hiking is a great way to take in the fall colours. Let us take you through a few adventures on foot…
Cascades Conservation Area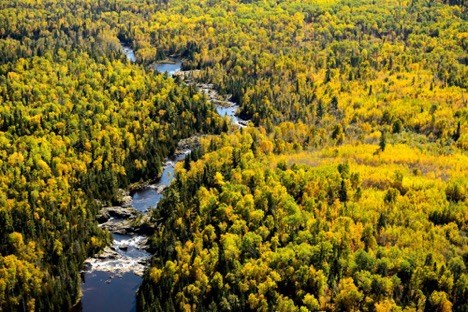 Photo credit: Lakehead Region Conservation Authority
Located near Thunder Bay, ON, this 6 km series of trails offers options for a variety of trail users. The conservation area also includes a 775 m paved route for folks with accessibility concerns to come out and enjoy the beautiful forest landscape that is the Cascades. This trail is also dog-friendly, provided your pooch is leashed at all times. The Cascade Conservation Area is owned and maintained by the Lakehead Region Conservation Authority. A $5 parking fee is required to enjoy the trails or a $40 Explore Pass allows you to experience various conservation areas in the Thunder Bay area and helps support trail maintenance and development.
Sleeping Giant Provincial Park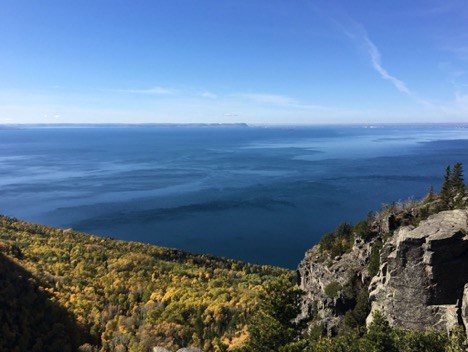 Sleeping Giant Head Trail, Image Credit: Alltrails.com
A number of great hikes exist in Sleeping Giant Provincial Park, located roughly 80 km from Thunder Bay. Hiking options range from beginner to advanced in the park. The Top of Giant via Kabeyun Trail, Sleeping Giant Head Trail and Talus Lake Trail range from 15-23 km and are moderate to difficult trails. The Sea Lion Trail, Sawyer Bay Trail and Middlebrun Bay Trail range from 2.4-11.9 km and offer experiences more geared towards beginner hikers or folks looking for an easier trail system. Check out this list of choice hikes at Sleeping Giant Provincial Park for more details on these trails and other hiking options!
For more information about hiking and other activities in the Thunder Bay Area, check out: www.visitthunderbay.com and www.superiorcountry.ca
Robertson Cliffs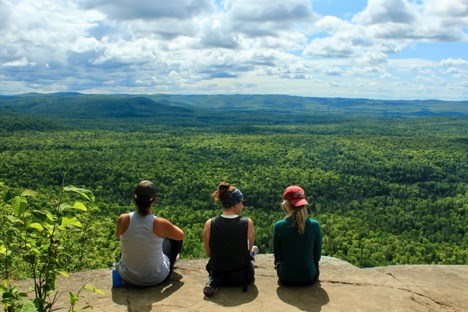 Photo credit: Reg Peer
Robertson Cliffs is a must-do hike if you're in the Algoma region. Robertson Cliffs is a 4.3 km moderate hike that takes you to an incredible rock cliff that overlooks the surrounding area. This hike is often best experienced clockwise. In this direction, the climb to the cliffs is steep, but short, with a longer, less difficult descent.
Robertson Cliffs is owned and operated by the Algoma Highlands Conservancy. The Algoma Highlands Conservancy is dedicated to conserving the Algoma Highlands, environmental education and research, silent sport recreation and sustainable resource management. Loved your hike at the cliffs? Consider supporting the Algoma Highlands Conservancy by becoming a member or by purchasing one of their sweet signature Buffs from local retailers like Joe's Sport and Surplus.
Orphan Lake Trail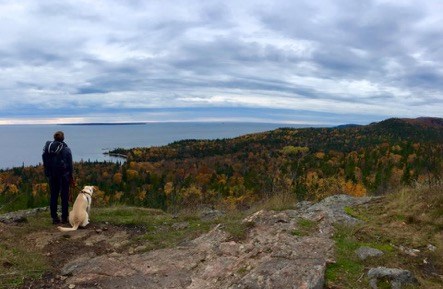 Photo credit: Reg Peer
The Orphan Lake Trail is a 6.9 km loop located in Lake Superior Provincial Park. This moderate trail starts with a walk through the woods and takes you along the edge of Orphan Lake and later skirts alongside Lake Superior. Furry friends are welcome on this trail, but make sure to have them leashed. The Orphan Lake trail is one of many trails in Lake Superior Provincial Park.
Rock Candy Mountain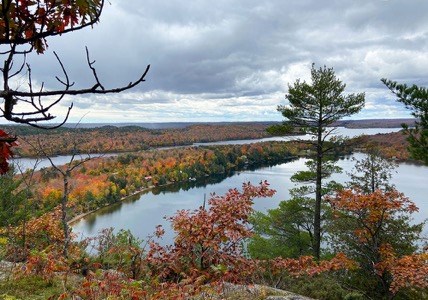 Photo Credit: Algoma Country
A favourite fall hike in Algoma, Rock Candy Mountain trail is a 1.5 km beginner-friendly hike just north of Thessalon, ON. Trailhead access can be found north of Thessalon on Highway 129, taking the first right after the Tunnel Lake Trading Post. Just down the gravel road, visitors will find a large clearing for parking and signage marking the trailhead.
Chippewa Falls
Just along the edge of Highway 17 N, roughly 55 km north of Sault Ste. Marie, you can find the roaring Chippewa Falls. The falls are visible right from the highway and there is a parking area and restrooms – making it a great picnic stop for visitors. There is a 0.5 km out-and-back trail to hike along the falls which is typically good for all ability levels and a viewing bridge to see the entire waterfall near the parking area.
Pancake Bay Lookout Trail
The Pancake Bay Lookout trail is an 11.4 km loop trail that is part of Pancake Bay Provincial Park, just north of Sault Ste. Marie, ON. Depending on the time of year, the trail can be a bit muddy and is primarily an uphill hike. Don't let the mud or elevation discourage you. This beginner to moderate hike is worth the effort, with views of Lake Superior at the top.
Helenbar Lookout Trail
Located in the Missisaugi Provincial Park, the Helenbar Lookout Trail offers spectacular views of the surrounding landscape. A close look at the rock along the park trails also reveals evidence of fossils and wave action from long ago. Helenbar is an 8 km loop that is good for all ability levels and includes a beach stop for those who want to go for a swim in the warmer months (or who are brave enough to dare the waters in the brisk fall weather).
For more information about hiking and other activities in Algoma, check out: algomacountry.com and saulttourism.com
A.Y. Jackson Lookout Trail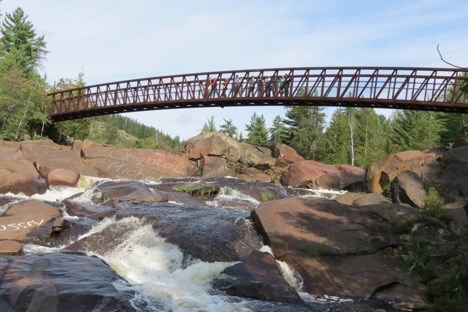 Photo credit: https://www.rainbowroutes.com/ay-jackson
Located just outside of Sudbury, ON, the A.Y. Jackson Lookout trail is a 2.1 km trail best enjoyed May through October. The trail is located off of Hwy 144, about 5.0 km north of Dowling. The A.Y. Jackson welcome centre sign is visible from the road and free parking is available at the welcome centre. This moderate loop includes a walk through a forest trail while the trail that leads up to the loop features stunning waterfall views and a bridge that stretches across the nearby river.
Devil's Rock (Mani-doo Aja-bikong) Trail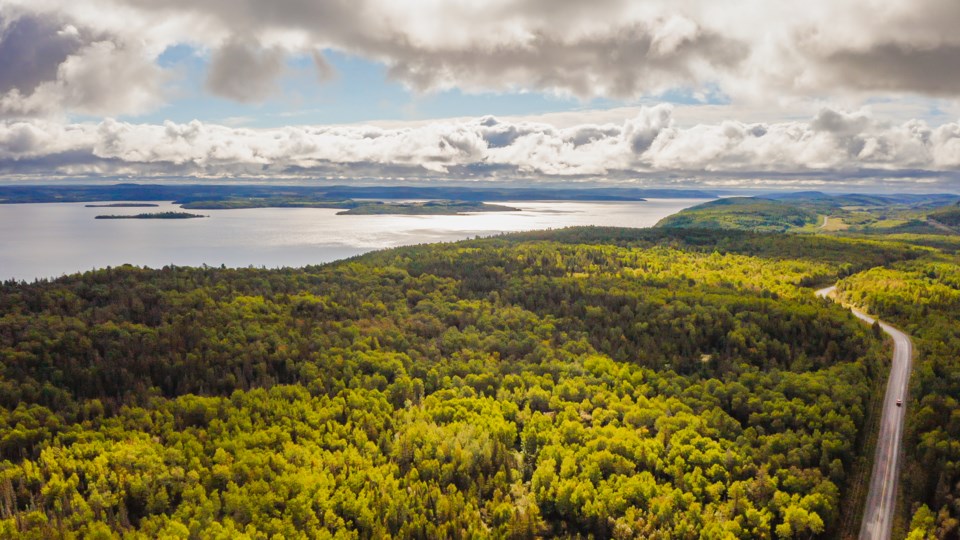 Devil's Rock Trail is a 6.6km out and back trail. The trail is located near Temiskaming Shores and is rated as moderate. This route can get muddy at times but is well worth the trip. There are two ways to get to Devil's Rock: The first trail can be accessed from Bucke Campground and is fairly well identified. The other way to access Devil's Rock is from the east side of Highway 567, about 1.5km south of Bucke Lake. This route is not signed as well but has a gentler slope and a wider trail with less rocks to negotiate.
Duchesnay Falls Trail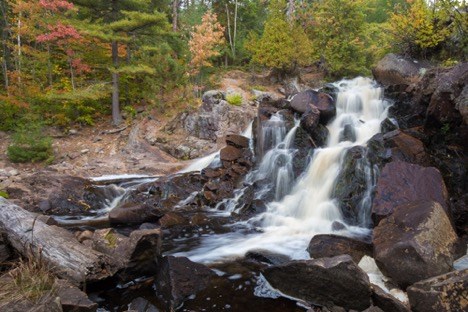 Photo Credit: https://www.northeasternontario.com/top-5-big-hikes/
As one hiker remarks, the Duchesnay Falls Trail is "quite a handsome series of interconnected waltzes along the cliffs and shorelines of the falls…[where] the river winds and erupts at several scenic points. There is also a strange poetry to the red clay pools – they are remarkable." After a short drive from North Bay ON, you can experience one of the area's most popular trails for yourself. The Duchesnay Falls trail is a 3.5km loop with exquisite waterfall views, that are only more fantastic when cloaked by a sea of oranges, reds and yellows in the fall season.
Be on the lookout for more experiences in Northern Ontario this September! To find out more, check out:
About Destination Northern Ontario (DNO)
Destination Northern Ontario is one of 13 not-for-profit regional tourism organizations funded by the Ontario Ministry of Heritage, Sport, Tourism and Culture Industries. We are the largest tourism region in geography, the second largest in expenditure and the only region that includes sub-regions.
Our Vision:
Northern Ontario will be a unique and distinctive tourism destination wherein high-quality products and experiences resonate with consumers, entrepreneurship is valued, and tourism provides local, regional and global connections for the entire region. Destination Northern Ontario will take a leadership role to strategically guide and champion growth in Northern Ontario's tourism industry, through strong communication, collaboration and partnerships with industry.
For more information on Destination Northern Ontario, please visit: www.destinationnorthernontario.ca. Follow us on Twitter or on Facebook for the most up-to-date news and information.