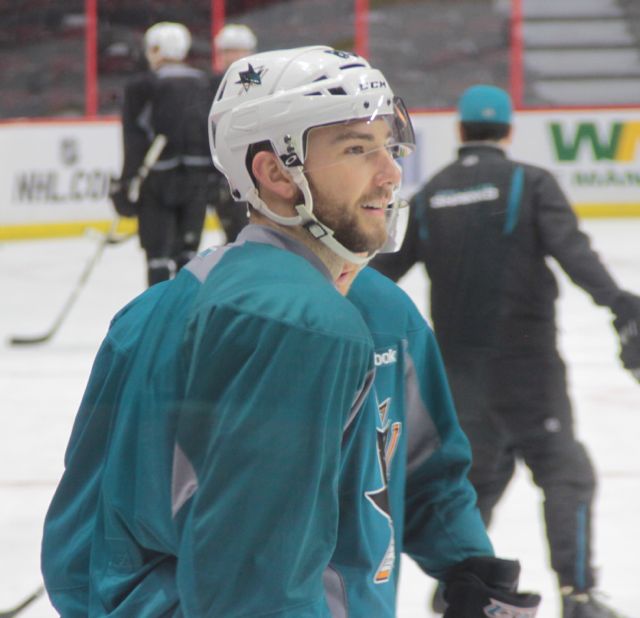 Barclay Goodrow, seen here on the ice at a Sharks pre-game skate at the Canadian Tire Centre in Ottawa back in March. PHOTO BY CHRIS DAWSON.
Barclay Goodrow is still on vacation but he realizes preparing for the upcoming 2015-16 season is not far ahead.
The former Battalion captain finished off his first full season in the NHL with the San Jose Sharks where he registered 4 goals and 8 assists in 60 games with the Sharks in 2014-15.
Those are pretty decent numbers considering the Battalion 2009 1st round pick was never selected in the NHL draft, and signed his first pro deal as a free agent with the Sharks in the spring of 2014.
Goodrow made a pit stop in North Bay this week to participate in the One Kids Place Charity Golf Tournament and talked to the media during a public appearance at Gd2go health restaurant Monday morning.
"Training starts now, I have to head to Sharks Development camp in early July, come back for a month and then head to San Jose in mid August and skate there and train there about a month before training camp starts," said Goodrow, who is one of three rookies, along with Mirco Mueller and Chris Tierney, asked to skate at the prospects camp.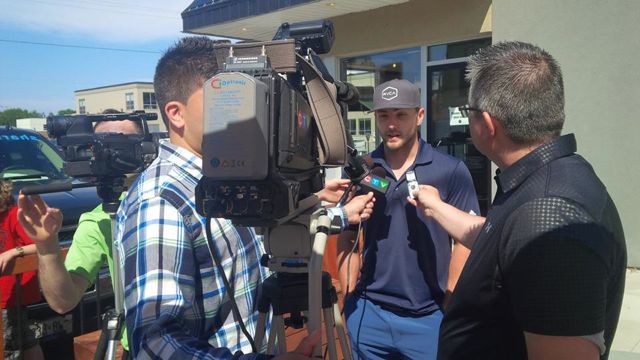 Goodrow speaks to the media in front of Gd2go on Monday morning. PHOTO COURTESY JEFF SERRAN.
After playing five seasons for the same head coach in North Bay, Goodrow will, for the first time in his career, play for a team with a new coach.
After missing the playoffs, the Sharks dismissed head coach Todd McLellan, who was scooped up swiftly by the Oilers, and was just as quickly, replaced by former New Jersey Devils bench boss Pete DeBoer as the new Sharks head coach.
"Yes for sure as a young player I think I have to re-prove myself all over and going to camp I am not expected to be given anything," admitted Goodrow about playing for the former Kitchener Rangers head coach.
"I have to start from scratch and look forward to the challenge."
Goodrow finished the season with the Worcester Sharks where he was assigned by GM Doug Wilson on April 8th with the Sharks season ended.
He finished re-assignment with 2 goals and 4 assists in 7 playoff games for the Sharks farm team in Worcester which was eliminated in the Eastern Conference Quarter-finals by the Hershey Bears 3 games to 1.
It will be an interesting off-season as well for Goodrow as many hockey insiders expect the Sharks to make some significant moves in the off-season which may have a dramatic effect on where Barclay Goodrow fits next season with the Sharks.
While the future is in the front of Goodrow's mind, he made it pretty clear that he will never forget his past with the Battalion, especially his last season in North Bay where he guided the Troops to the OHL final.
Internally, Goodrow admits he followed the Battalion playoff run closely and even made some friendly wagers with other OHL alum on the Sharks.
"Tierney, Couture and I all had bets which guys former OHL team would go the furthest in the playoffs so I won that one pretty easily," said Goodrow with a grin.

"Ottawa (Couture's former team) and London (Tierney's former team) didn't do so well but I talk to the guys a fair amount, it's nice to catch up and just see what everyone is up to, we all had a lot of good memories here so it's always nice to see what they are doing and catch up from time to time."