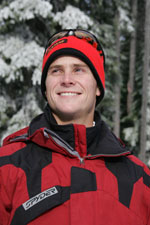 He may be thousands of miles from home but former Canadian Olympic skier Steve Omischl sure had a big smile on his face when he found out Mount Antoine, re-named Antoine Mountain, will take on skiers and snowboarders again for the first time since 2000.
"I was extremely happy to hear that the mountain would re-open," Omischl told BayToday from the southern coast of Melbourne, Australia where he is enjoying a surfing vacation with members of Canada's Freestyle Ski Team.
"I always thought it was disappointing for the community of Mattawa and of course the ski/snowboard community of North Bay when the mountain closed.
"Over the last few years, we always heard rumours that it might re-open, but I'm psyched to hear it's been confirmed. It always seemed a shame to me that a resort with the largest vertical drop in Northern Ontario sat unused."
The new resort was unveiled at an event on July 25th at the ski hill.
The 3-time Olympian and 4-time world cup freestyle ski champion, who has been a member of the National Team's coaching staff since 2012, says he has endless memories of skiing on Mountain Antoine.
"Where do I start," Omischl said about his time skiing there.
"I remember skiing at that mountain pretty much every weekend all winter long for most of my childhood. My fondest memories are probably based around the commute with my old coaches and teammates…. the anticipation on the way there and then the good kind of tired on the drive home.
"Cheesy as it may sound, it was always the people and culture of the ski community in North Bay that I loved and remembered the most.
"Also, when they held the Ontario Championships for freestyle when I was probably 15 or 16. At the time, it was an important event and was exciting for me that it was on our home mountain."
With the re-emergence of Antoine Mountain, has come concern over the sustainability of Laurentian Ski Hill in North Bay. Omischl says both Ski Hills played a vital role in his development into an Olympic athlete.
"Honestly, I know this is a touchy subject, but I would hope they can work something out," noted Omischl who learned to ski at both locations.
"I think if they build the ski/snowboard culture up in our area with the help of Antoine Mountain's re-opening, it can only be a good thing for both.
"The bottom line is they both need people buying lift tickets, and I get that the market might be a bit small in just our area to accommodate both facilities. We need to draw from surrounding areas more and increase the pool of people using both on a regular basis."
As for development, Omischl hopes the re-opening will ignite competitive skiing for young athletes so the area can develop more athletes like himself and current Slope Style National Team skier Tyler Nicholson.
"In my opinion, the longer runs and steeper terrain are very necessary for any skier or snowboarder to take their game to the next level. Laurentian is a great hill and it's where I learned to ski, but Antoine Mountain is a place where you can train at a higher level (no pun intended) Young athletes need a facility like Antoine Mountain to improve and be competitive at a provincial level.
"It's a huge asset to local ski/snowboard programs."
Despite Omischl's busy schedule he says he plans to be home at some point and ski the new Antoine Mountain while rekindling some very fond memories that he will never forget.