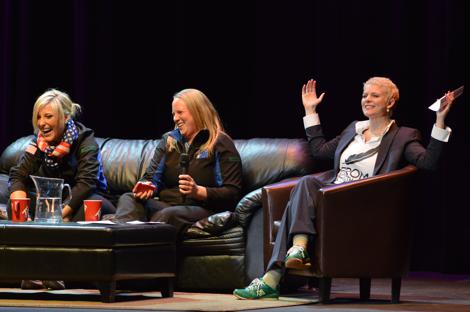 More than two years of anticipation came to fruition on Sunday night as the World Ringette Championships were officially launched at the tournament's opening ceremony at the Capitol Centre.

Athletes from Finland, Sweden, the United States and across Canada were introduced and welcomed back to the birthplace of the sport, 50 years after it was founded by the late Sam Jacks, catapulting North Bay to the forefront of the sport once again.

"The fact that we're hosting the World Ringette Championships in the 50th year of existence right here in the city, the birthplace of ringette, is a very special moment for the Jacks family and our community," said North Bay Mayor Al McDonald.

Ringette fans from throughout North Bay filled the theatre to witness the world's best players gather and introduce themselves to the family responsible for founding the sport.

"Come out and see what it's all about. We're in the birthplace of the sport, just come out and get behind it for the girl's sake," said Bruce Jacks, the son of the sport's founding father. "It's phenomenal, so many people have done so much work over the last two years and so much time and effort has gone into it. What you saw here tonight is just a sample of what's to come."

After short speeches were given by the chairman of the championships Jeff Francom, Bruce Jacks and other event officials, the ceremony turned into a talk-show type event that hosted the Jacks family, as well as members from all four senior teams in the tournament.

The North Bay fans were treated to unique performances from team members, including a rare reading of The Night Before Christmas by Team USA, Swedish carols from team Sweden, a traditional Finnish New Years demonstration and a slideshow from members of Team Canada.

"I think it's really poetic to have the tournament here, the birthplace of ringette, for the 50th anniversary, I think that's the poetry of it all," said Nipissing MPP Vic Fedeli. "Seeing the Jacks family here and seeing how it's all come full circle is really the important part of it all."

Team Canada begins play with an exhibition game against USA on Dec. 30 before beginning the best two-out-of-three Sam Jacks Series against Finland on Jan. 2.

For more information on the tournament click HERE.
For the official Twitter account click HERE. You can also use the hashtag #2013WRC.
For the official Facebook account click HERE.
For the official YouTube site click HERE.