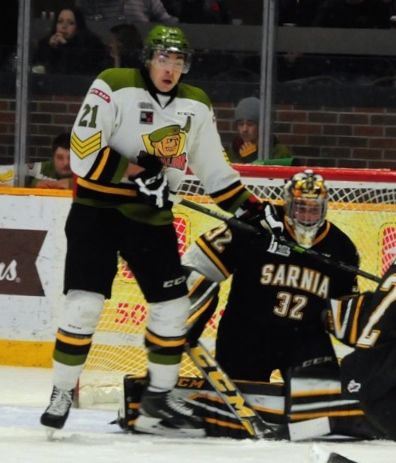 Battalion forward Nick Paul centred a pretty deadly OHL Eastern Conference line on Thursday night as Team OHL faced Team Russia in Game 3 of the Subway Super Series which faced off Thursday night in Peterborough.
The Russians used a patient game and capitalized on some Team OHL turnovers as they fired 4 goals in the OHL net in the second period en route to a convincing 4-0 win.
Paul centred a Team OHL line with Sudbury Wolves winger Nick Baptiste and Oshawa Generals sniper Michael Dal Colle.
North Bay's Ken Appleby was the backup to Steelheads goalie Spencer Martin who got the start for Team OHL.
In the first two games of the series, Russia defeated the WHL All-Stars twice by identical 3-2 scores.
The trio was unfortunately on the ice for the Team Russia opening goal where the visitors used a quick transition and Konstantin Okulov slipped it past Spencer Martin early in the 2nd period as the Russians scored on their 5th shot of the game.
On the very next shift, Paul lets go a quick snap shot from the slot but Russian goalie Igor Shestyorkin made a brilliant toe save to keep his team ahead 1-0.
The Russians netted a pair of goals in less than 3 minutes and a shot from Nikita Shatski may have deflected off Paul and past Steelheads OHL All-Star goalie Spencer Martin, which made it 3-0 Russia by the midpoint of the second period.
Paul also centred the Team OHL 2nd power play unit. The Ontario power play struggled to get shots on goal thanks to some stingy penalty killing by the Russians who shut down the shooting lanes for the OHL snipers.
The Russians had more success on the power play as on an extended 5 on 3 Team Russia scored in the final minute of the second period to make it 4-0. Vladimir Bryukvin finished off another nice Russian goal which extended the lead to 4-0 in a period the OHLers likely want to forget about.
OHL Head Coach Scott Walker mixed up the lines a bit as Max Domi replaced Baptiste on the line with Paul and Dal Colle.
Paul had a solid shift late in the 3rd period as he set up Nick Baptiste for a nice shot which was stopped by the Russian netminder. The trio of Dal Colle, Baptiste and Paul did a nice job on the cycle game as they tried to help Team OHL get back into the game.
Game 4 of the series will take place on Monday, November 17th in Kingston as Kyle Wood will make his way east to play for Team OHL in the final game for the OHLers against Team Russia before the Eastern European squad heads east themselves for 2 final games against the QMJHL All-Stars.