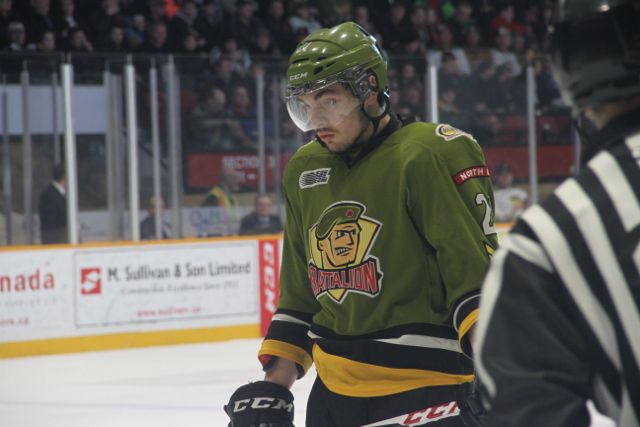 The Ontario Hockey League today announced that forward Nick Paul of the North Bay Battalion is the 2014-15 recipient of the Dan Snyder Memorial Trophy awarded annually to the OHL's Humanitarian of the Year.

Paul, a 20-year-old from Mississauga, ON, is revered in the City of North Bay for his commitment to the community for two straight seasons, particularly through the 'Points for Paul' campaign that he initiated with representatives of the North Bay Regional Health Centre Foundation (NBRHC) in the fall of 2014.

"First of all, I would like to say thank you for the recognition; it's a true honour," said Paul.
"What's really rewarding is making a difference and raising awareness because the topic of mental health is becoming more and more prominent in today's society. I am passionate about the cause because of past experiences involving people close to me, and seeing the results and feedback from people has really made it all worth it. I want to thank everyone who has helped and supported me in making all of this possible."

Paul lost a close friend to suicide while attending high school in Mississauga and wanted to make a difference in the mental health of young people. Committed to stamping out the stigma and getting people talking and seeking help, it was his idea to create a program to raise funds every time he earned a point this season. His efforts resulted in significant awareness and support with over $7,000 being raised for the Child and Adolescent Mental Health Unit (CAMHU). A two-time nominee for this award, Paul has also been a mentor for Battalion players throughout his career attending numerous community events in association with minor sports, elementary schools, and team fundraising programs including Alzheimer's Society, and the widely successful Coach4Food program.

"Nick's initiative has created groundswell of awareness, publicity, and support to the CAMHU," said Tammy Morison, President & CEO of the NBRHC Foundation.
"Nick is a role model for youth in North Bay, and his efforts will have a lasting impact on the care available for children in our community. It has been my pleasure to get to know Nick and help him achieve his goal of helping youth in his community."

On the ice, the Troops' alternate captain finished second in team scoring with 37 goals and 29 assists for 66 points in 58 games played. Overlooked in his first year of OHL eligibility, Paul has played three seasons with the Battalion who chose him in the fifth round of the 2012 OHL Priority Selection. He was recognized in the OHL's Eastern Conference Coaches Poll as Best on Face-Offs, and Best Defensive Forward. Originally a fourth round pick of the Dallas Stars in the 2013 NHL Draft, Paul signed an entry-level contract with the Ottawa Senators who acquired his rights in a trade last summer. The Battalion fan favourite was also a member of Canada's National Junior Team winning gold at the 2015 IIHF World Junior Championship in Montreal and Toronto.

"Nick felt a close connection to the 'Points for Paul' cause and did a fabulous job in setting up and supporting the endeavour," said Battalion Owner Scott Abbott.
"It was an extremely busy and productive season for him, but his commitment to humanitarian work was complete and tireless. He was a true inspiration to countless people."

Each year the OHL awards a player that has demonstrated outstanding qualities as a positive role model in the community with the Dan Snyder Memorial Trophy. The Ontario Hockey League Board of Governors announced in 2004 that the OHL Humanitarian of the Year award would be renamed in recognition of the former Owen Sound Platers captain, who was twice named his team's Humanitarian of the Year in recognition of his tremendous efforts in supporting community activities.

"Nick embodies all of the qualities this award celebrates and we are pleased to congratulate him on being named the OHL Humanitarian of the Year," said Stan Butler, Battalion Head Coach and Director of Hockey Operations.
"Throughout his OHL career, he has been a tremendous ambassador for our hockey club and we are proud to see him recognized for his contributions not only on the ice but also in our community."

Paul becomes the first player in Battalion franchise history to earn the award, however North Bay Centennials defenceman Brad Brown received the honour for the 1994-95 season. Past recipients also include Chris Terry and Ryan Hayes who represented the Plymouth Whalers with back-to-back awards in 2009 and 2010 respectively, before Jack Walchessen and Andrew D'Agostini of the Peterborough Petes won in 2011 and 2012. Ben Fanelli of the Kitchener Rangers won in 2013, while Scott Simmonds of the Belleville Bulls was last year's recipient.
Paul will be the OHL's nominee for Humanitarian of the Year at the annual CHL Awards on May 30 and will be formally presented with the Dan Snyder Memorial Trophy at the OHL Awards Ceremony which takes place June 9 at the Hockey Hall of Fame in Toronto.