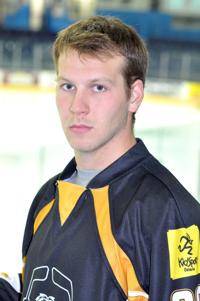 The Nipissing Lakers men's hockey team has added some more OHL experience to their lineup, as they have signed a pair of Northern Ontario players for the 2014-15 OUA season.
The Lakers announced Tuesday that Sault Ste. Marie product Chad Thibodeau and Timmins native Erik Robichaud have joined the program and are looking to make an impact immediately.
Thibodeau, split time this past season between the Sudbury Wolves and Wellington Dukes. He also made stops in the Soo with both the Greyhounds and the NOJHL's Thunderbirds.
During his time with Wellington this season, he participated in the Dudley Hewitt Cup.
Robichaud, wrapped up his junior career with the Sarnia Sting this past season after joining the team following a stint with the Abitibi Eskimos of the NOJHL.
Prior to that, he played for the Moncton Wildcats and PEI Rockets of the QMJHL.
Lakers head coach Mike McParland said adding these two players will give the Lakers some depth, as well as some experience, with both guys having played high calibre junior hockey for the past four years.
"We're really pleased to add Chad and Erik. We feel they will both provide us with some experience, coming from the OHL and both offer different skill-sets that we'll be able to utilize next season," McParland said. "They strengthen our lineup."
Thibodeau is known for his physical style and his willingness to stick up for his teammates and drop the gloves from time-to-time.
He's also a versatile player, playing both forward and defence throughout his career.
With the Dukes, he picked up 14 points in the final quarter of the season after coming over from the OHL's Wolves.
The 6-foot 200-pounder will provide the Lakers with some grit and toughness and will give them some depth both up front, as well as on the blueline.
Thibodeau said he's looking forward to filling any role the team has for him; he just wants to contribute to the success of the program.
"I personally hope to come in and help out any way I can. I love to win and winning comes when everyone buys into their roles, so whatever role it takes to win I will accept," he said.
"I expect our team to do really well next season. I think the players that Mike has brought in are all very good players and more than that they are very good guys which is going to help with the team chemistry and you need that to be successful."
Robichaud said the combination of playing hockey at the next level, as well as continuing his education is exactly what he was looking for following his junior hockey career.
And he said he feels Nipissing is the right place to do both of those.
"I am very excited about joining the Nipissing Lakers hockey club. I'm also looking forward of getting an education from a great school," he said.
Being able to play both forward and defence makes Thibodeau a valuable player to any team and the Lakers should benefit from that.
He said it doesn't matter where he fits into the Lakers lineup; he's just looking to contribute.
"I would say I'm a versatile player. I play both defence and forward. I don't really have a preference I like to play both. I'm a two way player; I like to be offensive just as much as playing hard with a no prisoner's mentality in the defensive zone," he explained.
Robichaud is known more for his offence, bringing speed to the Lakers roster.
He has an offensive flare, but is responsible defensively as well, allowing him to fit on to any of the four lines the Lakers will ice on any given day.
He finished with 32 goals in 36 games with the Eskimo last season, proving he can find the back of the net, but also piled up 29 assists, as he showed his playmaking abilities.
McParland knows both guys will contribute in different ways, but he's looking forward to seeing them both in the blue and green in September.
"Chad is a hard-nosed, physical player and that will help us out, especially on the forecheck if he plays forward. If he plays defence, he'll make it difficult on the opposition in our own end," McParland explained. "Erik is a speedy forward who can put the puck in the net. His speed and scoring ability is going to help replace some of the goals we lost due to graduating players."
Thibodeau will be studying business at Nipissing and said he feels his junior career, especially in the OHL, will give him the knowledge and experience to succeed at the OUA level.
"My OHL career really helped me with my entire game playing with and against the top players in Canada you need to be prepared every game," he said.
Robichaud agreed, adding that he needed to improve every day to keep up and excel and it will be the same story with the Lakers.
He will be looking to push the veterans and also find a regular spot in the lineup where he can chip in.
With the addition of Thibodeau and Robichaud, along with previously signed Jaret Smith and Sam Gleason, the Lakers are developing a strong recruiting class to fill some voids left by graduating players.
"We're not done, but to this point, we've added players we feel can come in and contribute to our team and help us get back near the top of the OUA," McParland said.
"They all bring assets to the team we can use and we're excited to see them in the lineup."
Photo of Eric Robichaud, courtesy NOJHL.com & Abitibi Eskimos