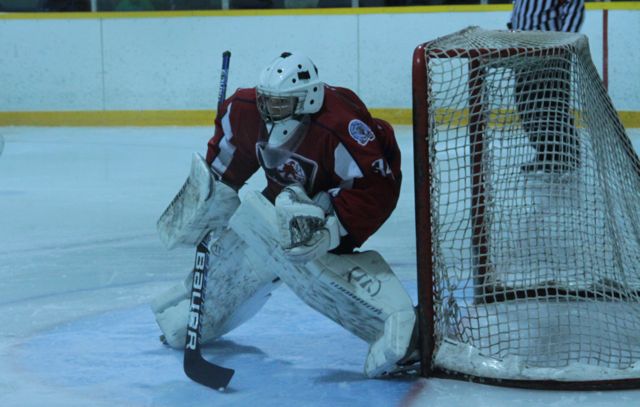 You know something is impressive when you google something and nothing pops up.
You can try it yourself if you google "100 saves in a hockey game" nothing related comes up.
If you google "107 saves in a hockey game" the only related link that pops up is Colton Point.
On Sunday afternoon the North Bay Trappers goaltender put on a monumental performance, perhaps the best individual performance by any Trappers player, from any era, going back to 1919 as he turned away 107 of 109 shots in the Trappers 3-2 triple overtime win over the Sault Ste. Marie Thunderbirds at West Ferris arena.
To put it into perspective, the NHL record isn't even close to what Point achieved. The NHL record goes way back to 1936 when Detroit Red Wings goalie Normie Smith had a 92 saves in a playoff game.
"Winning a game with the shot count in triple digits is almost unheard of, and for me to have accomplished that is a feat I will not forget," Point told BayToday.ca
"I sort of just got in a rhythm, and nothing seemed to break it. It was an incredible moment for sure."
Former Trappers goaltender and current Oshawa Generals goalie Kenny Appleby weighed in on the achievement. Point and Appleby share the same goaltender coach in Mike Lawrence.
"Incredible, something I've never heard of or could ever imagine having to do myself," said Appleby who skated at both the Arizona Coyotes and Chicago Blackhawks prospects camps last summer.

"However, I've skated with Colton before and seen his work so I know it's something he's definitely capable of. It's a good feeling when you're having one of those games and get into a groove when it's almost as though everything is sticking to you, so good job to Colton and hopefully he remembers it for a very long time."
Local Professional Goalie coach and former Jr. Trappers goalie Tom Hedican says he remembers facing a few games around the 80 shot range, but to go over the century mark is something he hasn't heard of.
"That would have been something to see," Hedican told BayToday.ca on Monday morning after hearing about Points performance.
"It's amazing what an athlete can do when they are in a zone, and with that many shots, Colton must have been in a great one. That many shots would force a goalie into an extreme condition of concentration which would enhance his performance, and no doubt, this must have been exceptional performance by him."