"Bluelines: Summer Edition" is written by Ranjan Rupal (right), the play-by-play voice, and Greg Theberge (left), a former Memorial Cup winner and Washington Capitals defenseman and hockey analyst for The OHL Tonight on TVCogeco.
As a reincarnated OHL city, we have two full seasons under our belt.
And it occurs to me that not once during that entire span, not through nine straight road games to start the 2013-14 season; nor through a mad dash to a Central Division banner and Bobby Orr Trophy; nor during an exhilarating run to the OHL Championship Series; and then this past season, not once during that strong start; nor during a December spent without a star forward, nor during a playoff surge that took the North Bay Battalion to the final four, did we ever doubt our goaltending.
For that we can thank Jake Smith.
We're knowledgeable hockey fans. We understand the value of this luxury. One need not look very far to uncover the wreckage of teams doomed by insufficient goaltending. In fact, for two seasons in a row, Barrie Colts' netminder Mackenzie Blackwood, one of the most highly touted goaltending prospects in the OHL and recently drafted by the New Jersey Devils, was unable to carry his team past the North Bay Battalion. This is not saying that Blackwood won't be a good NHL goaltender one day, but after running into Jake Smith, his Barrie Colts will be raising a Central Division banner come October, and nothing more.
Jake Smith, on the other hand, continues to deliver the goods in North Bay.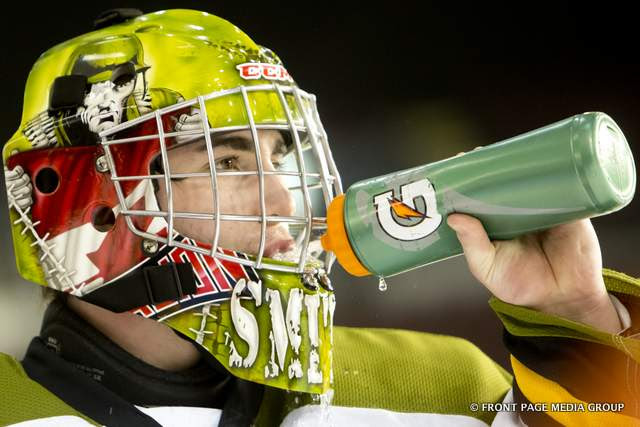 North Bay Battalion goaltender Jake Smith takes a well-deserved break during the action
By the way, I refer to him as Jake Smith, and not Jake, or Smith for a reason. In a way, I think his full name conveys a certain majesty. Like Ken Dryden, or Patrick Roy. Names such as these resonate deeply when uttered in their entirety, conjuring images of greatness, and memories of brilliant performances time and again. In this city, after carrying the Battalion to two final four appearances, including a Bobby Orr Trophy, I think Jake Smith communicates a similarly powerful message.
His first taste of serious action for the Troops was in the 2012-13 playoffs, stepping in for the incumbent Matej Machovsky, a decent goaltender himself, but who was chased from the net at a raucous Sudbury Arena, having been lit up three times on eight shots in the first period of a crucial Game 4. An extremely green Jake Smith came in, cold, but was calm and methodical, absorbing shots from the perimeter, and battling when the action was fast and furious in front, battling in the very same manner that has now become his trademark, and by the end he had steered aside 26 shots before being beaten 14 minutes into overtime.
I maintain a little black book on every player in the OHL. After just two years, Jake Smith's tab is littered with stars, and more stars, words underlined and re-underlined, and a something that resembles an owl, which must have made sense at the time. I hadn't left any room for an overage campaign, but it reads like this: exceptionally fit workhorse, possessing great lateral quickness, combined with above average athleticism and quick reflexes. A skilled puck handler who is able to find an open man down ice, or rattle it off the glass and out of harm's way. He reads the action very well, and is rarely caught out of position, displaying a penchant for show stopping saves, all while maintaining calmness under pressure that lifts his teammates. Comparable: Jonathan Quick, L.A. Kings.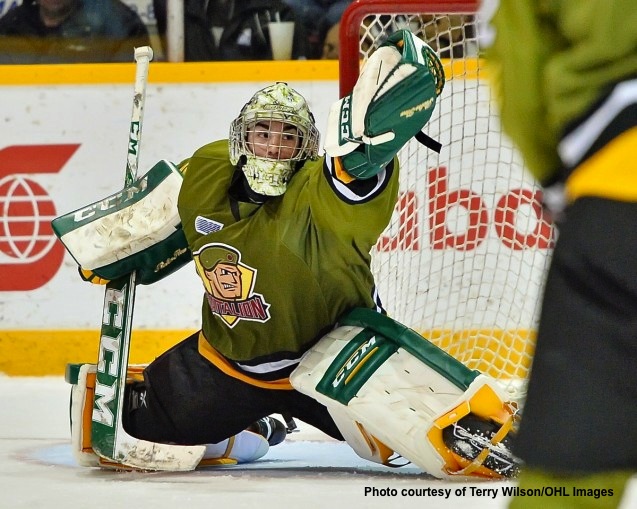 Jake Smith has been a difference-maker since becoming the starter two seasons ago
I think that pretty much sums him up. What it doesn't tell you is about the tremendous contributions that he makes beyond his crease.
Rob Beatty, the goaltending coach for the Battalion, knows Jake Smith as well as anybody.
"I think if he wasn't a goaltender you'd see an 'A' on him out front," said Beatty, "because I know what he does in that room and I know how he interacts in that community and he's a heck of a leader."
It's no secret that Jake Smith has a loyal following in North Bay. Boosted by genuine good-naturedness and boyish good looks, his platinum status is reinforced every time his name is announced as he takes to the ice. The cheers at Memorial Gardens flow easily and are authentic, and standing ovations for his travails on the ice have become a daily occurrence. In fact, as a broadcaster, given he has one of the best goals-against averages in the OHL, I must continuously find new ways to say 'Great stop by Smith!' or risk sounding repetitive. I must admit I've enjoyed the challenge.
One such occasion was the heart stopping 3-on-0 breakaway surrendered to the Oshawa Generals in the playoffs. Jake Smith's save, both marvelous and utterly improbable at the same time, was one of the most exhilarating I've seen him make, and at a critical juncture of the game.
These performances have turned Jake Smith into a difference maker for this team, and quite likely the team's most valuable player over the past two seasons.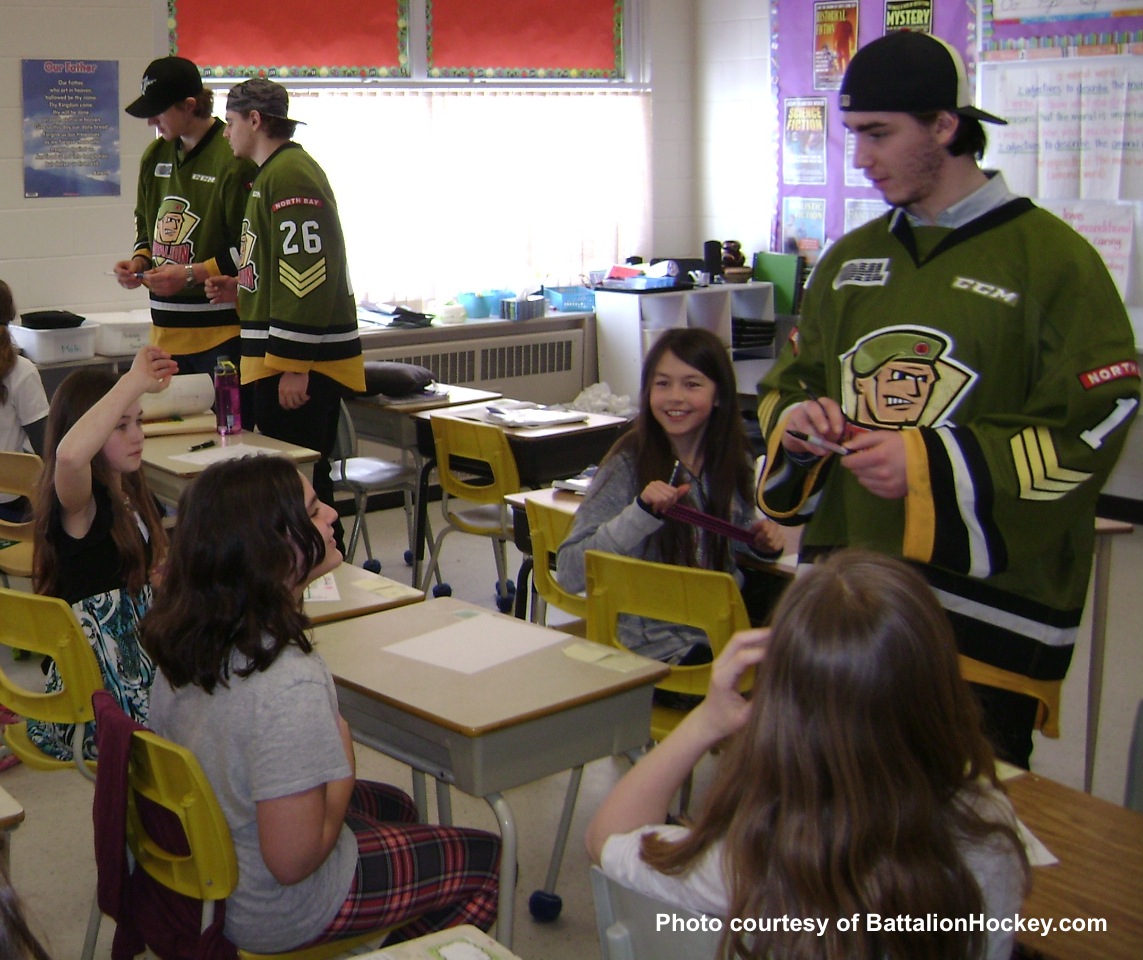 Jake Smith captures the hearts and minds of students at a local elementary school
"We can see Jake dominate games, and he can win games for that team," said Beatty. "You take the third game in North Bay, against Oshawa in the playoffs, when that 3-on-0 comes down and he's able to make the save there and we win in overtime."
True to form, chatting about Jake Smith is not Jake Smith's favourite topic. He is the consummate team player, and is quick to point out that his successes arise from team successes. To learn more about the best goaltender ever to suit up in a North Bay uniform, I caught up with Jake Smith and peppered him with 32 questions. Not surprisingly, he stopped them all...
Ranjan: Hi Jake! As you know, North Bay is a hockey town. It's summer, but still we fret over an unanswered question. You're an OA. Will you be back as starting goaltender for the North Bay Battalion in 2015-16?
Jake Smith: Yes I will. It wasn't a very hard decision. I think that after the way last year ended, how close the team ended up getting, it's impossible to let that go. Giving up living the dream in the OHL, having the time of your life, is pretty hard to do. I wanted to get the most out of it, and didn't want to have any regrets, and I'm looking forward to the season, and I think it's going to be a good one.
Ranjan: What have you been doing this summer?
Jake Smith: I've just been training, working out hard, and have been on the ice and stuff like that. But yeah just trying to enjoy the summer before I go back to North Bay.
Ranjan: Tell me about your daily training and preparation this summer…
Jake Smith: I'm at the gym everyday doing a workout. I try to get on the ice two, three times a week. I try to stay in shape and make sure my body is in the best physical condition. I see Owen Green and Brett McKenzie at my gym.
Ranjan: Describe the conversations you've had with pro teams…
Jake Smith: I haven't had any myself. I think Stan has, and I think my agent has, but not me in particular. It's been a little more disappointing than I thought, but no conversations.
Ranjan: A lot of people in North Bay are having difficulty wrapping their heads around that one...
Jake Smith: It's kinda' tough. I was hoping to get a tryout somewhere, or at least get a phone call or something like that, but I didn't really hear anything from anybody. I tried to use all my connections, but it just didn't work out for me.
Ranjan: Do you look at a situation like your OA defenseman Brenden Miller, who took five seasons in the OHL to get that opportunity with the Toronto Marlies?
Jake Smith: Yeah, it's great for him. I couldn't be happier. He deserves it more than anyone. He works hard, probably one of the hardest workers on the team. Yeah, sometimes good things take time. I just got to keep working at it, keep working hard, and have a positive attitude all the way to the end and good things can happen.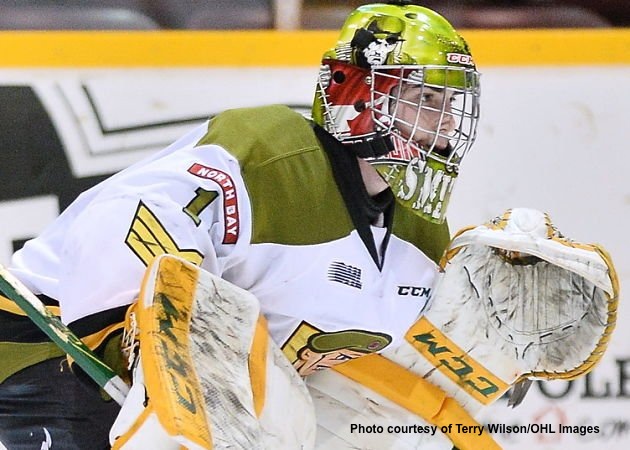 Square to the shooter, Jake Smith relies on lateral mobility and lightning-quick reflexes
Ranjan: Okay, granted it's only been two seasons, but my North Bay Battalion all-time starting lineup has Barclay Goodrow, Nick Paul, Mike Amadio, Marcus McIvor, Brenden Miller and Jake Smith. What does it mean to be part of that group?
Jake Smith: It's unbelievable just being mentioned in a group with players of that calibre. It's pretty special. All those players are going to go to have great careers…I know it. It's pretty special to be a part of. Every year we grew closer and closer as a team, and being core guys we've developed a lot of chemistry. I still keep in touch with Barclay and Marcus and Brenden, so definitely a strong bond between us.
Ranjan: Describe your defensive zone in a world without Marcus McIvor….
Jake Smith: It's going to be different. I think we'll still be okay. We've got a lot of solid defensemen back there, so I think we'll have a pretty solid D corps. But Marcus was one of a kind. It's pretty crazy playing behind a guy like that, a guy who'll do whatever it takes for his team, and put it all on the line, blocking as many shots as he did, just trying to get us all up like he did. He was a good captain - a great captain - and it's going to be a lot different, including the chemistry we had, playing together like we did for three years. He makes everyone on the team want to work harder, not only me. You see how hard he works, and how badly he wants to win, it makes everyone get up on the bench and try as hard as they can to battle for their brothers next to them.
Ranjan: What did it take to emerge as a perennial league leader in GAA?
Jake Smith: I think it's a lot of hard work. There are a lot of great goalies in this League. Just a couple of years ago I was just a backup goalie just trying to pay my dues. I learned a lot over that year, and over the past few years, and I think it's just a lot of hard work. The harder you work, a lot more good things happen. I'm thrilled to be a part of that top column.
Ranjan: It's not often that you have two subpar outings…
Jake Smith: It's mental toughness there. When you play in this League, you know you can get the job done. It's just a matter of getting back up on your horse and keep kicking at that can. Your problems are not just going to go away, it's not going to get any easier. You have to keep working hard, and have a positive attitude throughout. Everybody goes through those slumps.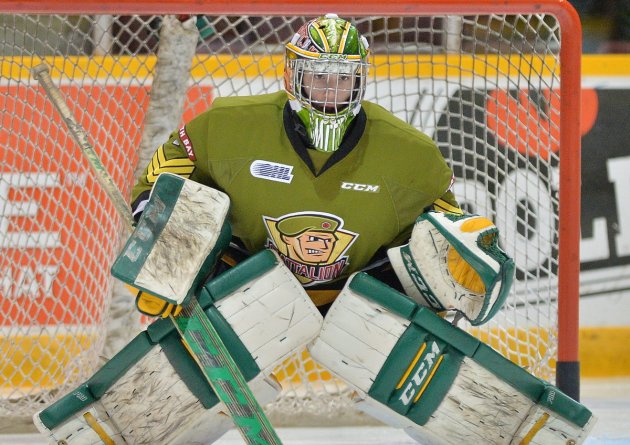 A positive attitude enables Jake Smith to become a league-leading goaltender
Ranjan: How do you deal with the psychological ups and downs of an OHL season? Have you encountered slumps?
Jake Smith: Absolutely. There were times where I couldn't go in the net and get a win. There was a ten game stretch where I was struggling and pucks weren't bouncing my way. It was tough to gain some confidence back. It was towards the end of the season, and it started to come back in the playoffs. That's when I started feeling my best. Even at some points during December too. There's always those up and downs during the season.
Ranjan: Describe your working relationship with goaltender coach Rob Beatty.
Jake Smith: He's a different kind of goalie coach. He saw my style, and instead of trying to fix it, or change it, he worked with it and made it even better. It was nice to see. Him and I have had a great relationship over the last three years, and he's definitely helped me reach as far as I have.
Ranjan: Rob says that you help maintain a positive vibe in the dressing room…
Jake Smith: I try to be as positive as I can out there. Now being one of the older guys, it's going to be my job, Mathew Santos' job and Miles Liberati's job to be positive and be leaders. We all have four years of experience now so it's going to be our job to pick the guys up and be positive, when things get bad stay positive, to keep it all going. It's something that we've got to enforce. I love being the positive guy on the team; I think it just influences everyone else.
Ranjan: General Motors Centre. Oshawa. Game 1. Nine seconds in, you send the puck over the glass in the defensive zone. Delay of game penalty. Marcus skates back, gives you a whack across pads and an encouraging word, and it was back to business…
Jake Smith: Stuff like that, when things get tough, when adversity hits, you've got to be positive. You get out there and remember it's a 60-minute game, not a two-minute game. Once a team can figure that out, and be one, and learn to work together, that's when everything comes together, and that's what you spend all season working towards.
Ranjan: I believe Coach Butler was a goaltender. Rightly, he has set very high expectations for his starting goalies. Describe his role in your development…
Jake Smith: He knows what he wants from his goalies. He knows a good goal, and a bad goal, and he'll let me know. I think Coach Butler and I have developed a pretty good relationship over the past three years, and it's great to see how much confidence he has in me. It means a lot to me. He'll throw the odd tip out here and there too. So it's nice to have that relationship with the coach.
Jake Smith Career Statistics


| | | | | | | | | | | |
| --- | --- | --- | --- | --- | --- | --- | --- | --- | --- | --- |
| Year | | GP | GA | GAA | SV% | W | L | OTL | SOL | SO |
| 2014-15 | Regular | 56 | 153 | 2.78 | .896 | 28 | 18 | 5 | 5 | 4 |
| | Playoffs | 15 | 31 | 2.00 | .927 | 10 | 4 | 1 | | 1 |
| 2013-14 | Regular | 42 | 98 | 2.52 | .904 | 23 | 12 | 3 | 1 | 4 |
| | Playoffs | 22 | 55 | 2.54 | .905 | 13 | 8 | 1 | | 3 |
| 2012-13 | Regular | 20 | 47 | 2.57 | .891 | 9 | 6 | 0 | 2 | 0 |
| | Playoffs | 2 | 3 | 1.46 | .939 | 0 | 0 | 2 | | 0 |
Ranjan: In Jake Smith, I see a goalie that'll do whatever it takes to make a save. Take a moment and define your style…
Jake Smith: Honestly I'd say I'm more of a hybrid style goalie. I just try to do whatever it takes to stop the puck, that's my motto. There's no right way to do it, it's just more along the lines of just get the job done.
Ranjan: Your save percentage skyrocketed in the playoffs to .927. How do you explain dramatic improvement over the regular season?
Jake Smith: I try to be the same the entire season but there's just something about the playoffs that brings out something in everyone that they didn't know they had. Playoffs have a certain vibe. It's a completely different season. You always have ups and downs during the regular season, but in the playoffs there's no time for that. I love playing under pressure. It's the most exciting time of the year and that's when your team is closest. The team helped me out with that statistic.
Ranjan: Are you saying save percentage is a team stat?
Jake Smith: They're performing as well as they can; that definitely helps the way I perform. When they're battling their tails off, trying as hard as they can, working hard, it just reflects back on me, that I want to do the same for them. It all comes together.
Ranjan: You get up for the playoffs. Any butterflies before a big game?
Jake Smith: Yeah, definitely both regular season and playoffs. Never to the extent where it affects me, but I find the butterflies I get are good. I find when I'm too loose before playing a game, that's when I get off my game. But when I'm completely focused, that's when I get my little butterflies and I'm ready to go.
Ranjan: Rob Beatty talked about your game-saving save on a 3-on-1 break in the Oshawa series, which seemed to ignite the team. What did yoy see on that play?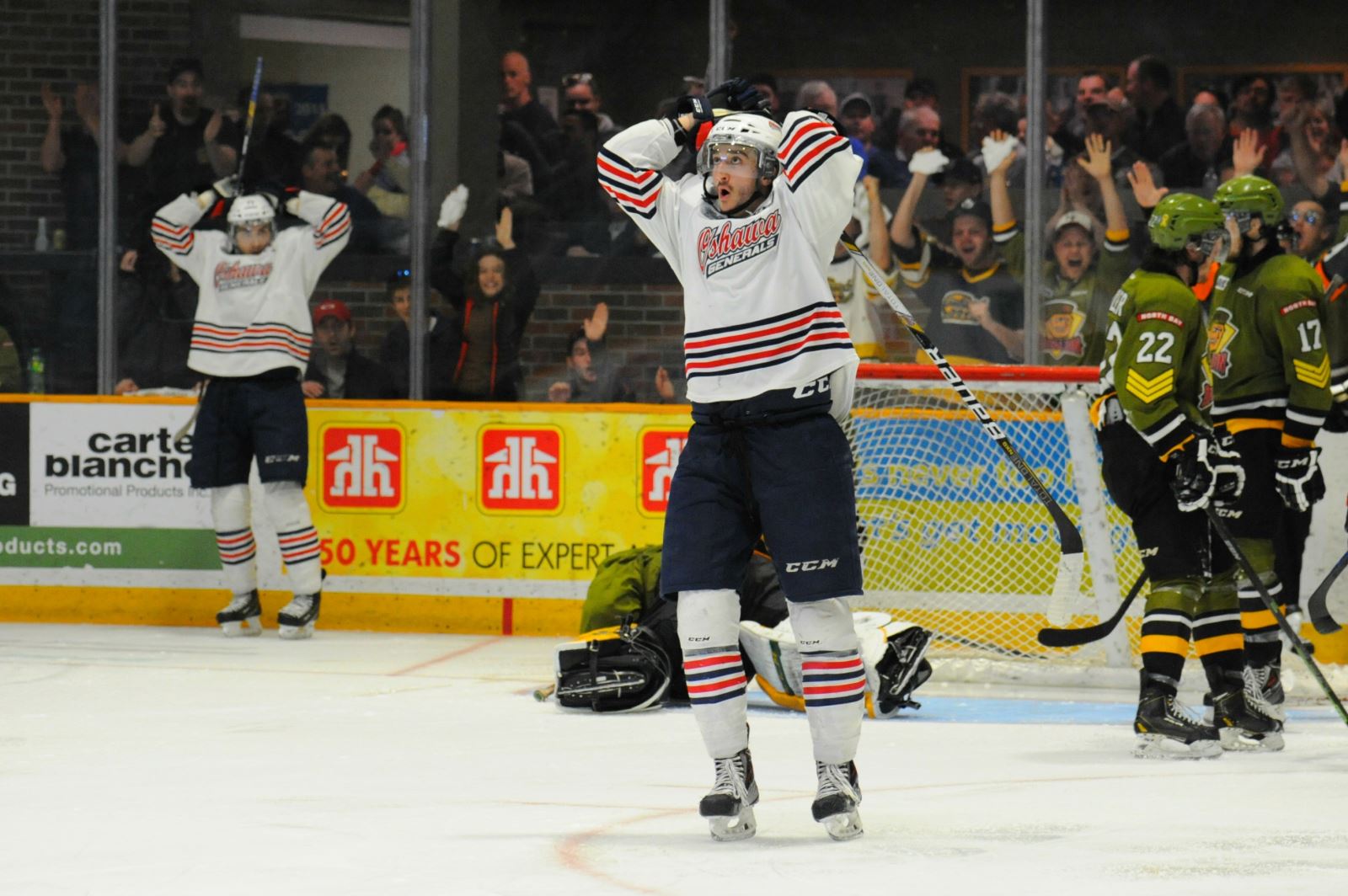 Jake Smith's enormous save left the Oshawa Generals awash in disbelief
Jake Smith: [laughs] I saw a bunch of pretty good players coming down the ice. But you never really look at it as a 3-on-1, you look at is as the next shot. Again, try to stay in position, stay patient as long as you can, and do whatever it takes to stop that puck! I want my defenseman to try and make them make the first move, and take away one of their players, so I end up not having to guess where that puck's going to go.
Ranjan: What was your best ever OHL game?
Jake Smith: My most memorable game has to be the game where we won the Eastern Conference finals against Oshawa. I think one of my best games this year was Game 3 against Kingston in the playoffs, and I think I had about 48 shots, or something like that, and we ended up winning 2-1.
Ranjan: What makes being a goalie different than any other position?
Jake Smith: It's a lot more stressful. You've got to be a special kind of person, whether it's a weird way or however you want to take that, to be a goalie. There's so much riding on you, if you play a bad game it's not looking too good for your team. On the other hand, if you're playing a good game, and you're team isn't playing that well, you can still give your team a chance to win. You always count on the goaltender on making that next big save that keeps your team in it. Goalies can be momentum changers, whether good or bad, and you want to be on the good side. It's nice to be counted on.
Ranjan: How do you prepare for a game?
Jake Smith: Nothing special. I ride the bike for a bit. I'll roll out, stretch out, do a little warm-up with the team and play some kickball with the boys before the game to loosen yourself up. During the anthems I try to clear my mind of all distractions and prepare myself for the task at hand.
Ranjan: As a goaltender, what tells you that momentum is changing within a game?
Jake Smith: When you get a couple of goals, or when a couple of big saves are made, you can definitely feel the momentum swing. But when the pressure is on in the D zone, and things are going rough and they a couple of quick goals, it's tough to regain momentum.
Ranjan: In a goal-mouth scramble, or during sustained pressure by the opponent, what do you want your players doing in front of you?
Jake Smith: I want them to pick up sticks. Everyone has to take a man, pick up a stick, and my job is to pick up the puck. My job is to find the puck and everyone else is going to do their job.
Ranjan: Folks who've never stood between the pipes are quick to point out a bad goal. It's rare for Jake Smith, but just how do bad goals happen?
Jake Smith: They happen all the time, maybe a shot from behind the net, or a softie shot. A lot of it has to do with a mental lapse, or just not being prepared…sometimes when I don't get a lot of action, like I'm seeing 10 to 12 shots. A lot of the time it's a really bad bounce.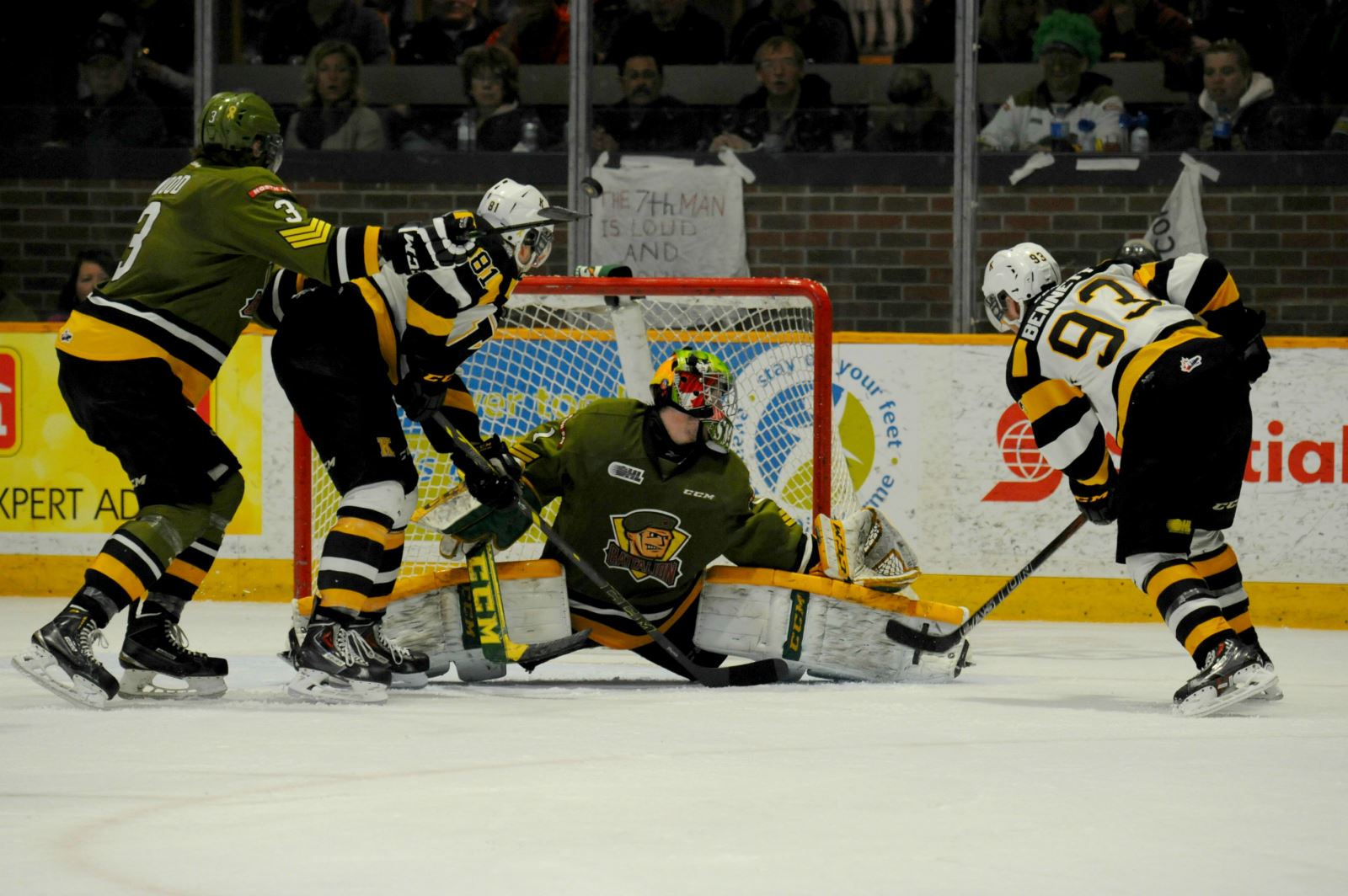 Calgary Flames first round pick Sam Bennett is unable to beat the outstretched pad of Jake Smith
Ranjan: On numerous occasions you've received thunderous ovations following great stops. Can you feel the love?
Jake Smith: It definitely makes me feel pretty good. It's a momentum builder for me too. It's pretty cool to hear because I've never had something like that, so it's pretty special to be a part of something like that. It helps bring my confidence up, and makes me better.
Ranjan: For the second year in a row, the annual OHL coach's poll has recognized your ability to play the puck… Have you always played the puck?
Jake Smith: I did at a young age, even in minor hockey, I'd love to play the puck. I've worked at it a ton. A lot of it has to do with a little natural talent, and the ability to see the ice.
Ranjan: What have forwards done in the past to try to knock you off your game?
Jake Smith: I think they try to throw traffic in front of me. They try to get in my face. I'm an athletic goalie so I try to see around screens a lot more, so they know they've got to get bigger bodies in front and try to jam away at me when the puck is loose.
Ranjan: You've had three back-up goaltenders in two seasons in North Bay, Brendan O'Neill, Evan Cormier and Jake Kment, the latter two being very inexperienced. Does this affect your role as starting goaltender?
Jake Smith: Definitely not. My job is to go out there and play and to try and be a good teammate. With Brendan, he had a great time in North Bay, and we had a great relationship. He was a great guy, and so was Evan, and he'll have a great career in the OHL. Jake Kment played tremendously for us last year, and my job is to help the young guys coming in, and help them fit into the room, and have a great experience. If they ever need anything, I'm there to talk to them, to always be there. They've all been great guys, so I've been pretty fortunate too.
Ranjan: Describe your ambitions for the upcoming season…
Jake Smith: Go out and play as hard as I can. I want to leave it all out there on the ice. I don't want to leave this year having any regrets. I want to know I did whatever I could, and whatever happens after that happens. Ideally I want to turn it into a pro contract somewhere, whether it's Europe, East Coast, AHL, NHL… But my first priority is working hard, and helping the team have a great season, and seeing where it goes from there.
Ranjan: What message do you have for young goaltenders?
Jake Smith: I love goalie more than anything…since I was a kid. I still do. I would always rush to be in net, in street hockey, or going to my brother's practices. What I'd tell a youngster is to set your goals, set your dream. Work your hardest, no matter what people tell you, no matter what they say, whether they say you're too small, or if they say you're not good enough. And have fun doing it. Have no regrets. Work as hard as you can to achieve that goal or dream. You'll be surprised how much fun and how many memories you have along the way.