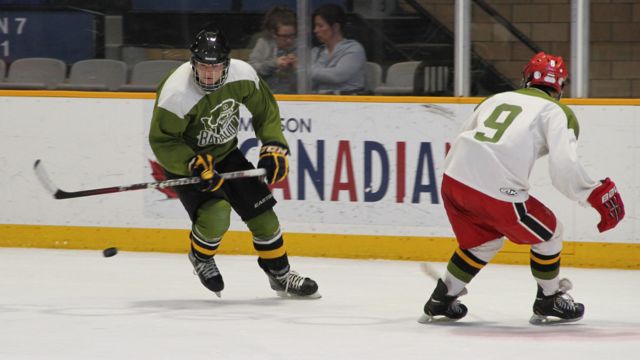 Battalion 2014 1st round draft pick Zach Poirier makes a nifty move during Battalion Orientation Camp on June 1st. PHOTO BY CHRIS DAWSON.
Zach Poirier may not have worn a green helmet like last year's first round pick Brett McKenzie did at Battalion Spring Camp last year but the Battalion top pick from 2014 stood out nonetheless.
His goal was to make an impression.
"I just want to have a good on-ice session and prove myself right away, I don't want to start of slow or anything so I want to make a good impression," said Poirier prior to his first on-ice session on Saturday, May 31st at Memorial Gardens.
Poirier, along with 39 other Battalion prospects did fitness testing and took part in a pair of on-ice scrimmages with Team Green matching up against Team White.
A portion of event was played 4 on 4 and that's where Poirier showed his skill, strength and heavy shot on the ice. The Mountain, Ontario product created scoring chances and accounted for 2 goals during the on-ice sessions.
"It's been a lot of waiting," said Poirier who netted 21 goals and 17 assists in 29 games with the Upper Canada Cyclones last year.
"I've been waiting for this camp and it's going to be a long wait until August but I will just have to keep at training and do what i can to stay at my top level so I can perform my best on the ice," added Poirier, who made a visit to North Bay's Memorial Gardens along with the other draft prospects on April 6th when the Battalion faced the Barrie Colts in the OHL Eastern Conference semi-final.
Battalion Assistant GM and Director of Player Development Matt Rabideau likes the upside that the 6'0", 180 pound showed at the camp.
"Obviously he's a physical player and he goes through guys to get the puck and that's what we like and I think he's going to rattle the glass a few times next season and going to be exciting for North Bay fans to watch him develop over the next couple of years," said Rabideau.
Poirier knows there's some opportunities on the roster with players like Goodrow and Thomson moving on.
However, Poirier isn't taking his first round status for granted.
He's hoping to make that impact and play his way up into the lineup, much like Brett McKenzie did last season.
"If I start with the team I know that i have to come out hard and prove myself right away but I'm just going to do what I can to help the team out and fill my role." said Poirier.