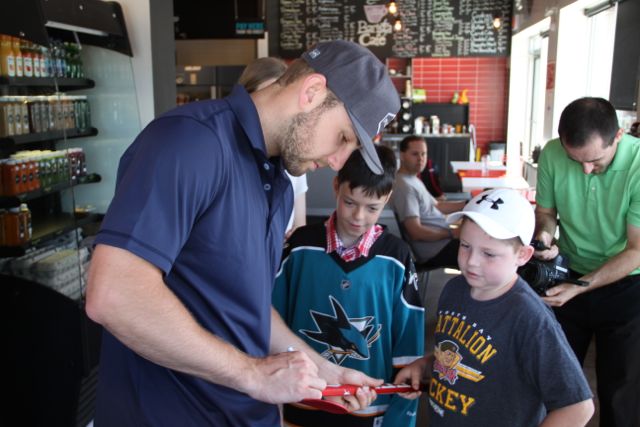 Former Battalion captain Barclay Goodrow signs a stick for young fan Carter Whitehead, who stands next to Sharks fan Sam Jackson at Gd2go Monday morning. PHOTO BY CHRIS DAWSON.
A pair of nine-year-old's were first in line today as San Jose Sharks forward and former Battalion captain Barclay Goodrow made his first public appearance in the Gateway City in about a year.
"It's good because I actually get to meet him because when he went to San Jose I kind of felt bad because he left," said Carter Whitehead sporting a Battalion T-shirt.
For Sam Jackson, Goodrow's influence has caused him root for a new team.
"It feels good because he's a pretty good player in my hometown and now my favourite NHL hockey team is San Jose so it's pretty amazing," Sam said sporting his teal San Jose Sharks jersey which now has two Barclay Goodrow signatures on it.
Goodrow was back to North Bay to participate in the One Kids Place Charity Golf Tournament, hosted by the Battalion, which took place Monday afternoon at the North Bay Golf and Country Club. However, his first stop was Gd2Go health food restaurant on main street east Monday morning; a place he frequented during his season in North Bay.
"I built up a lot of friendships with the players but also the people of the town so it's nice to come back and see all those people and playing in a good charity golf tournament," said Goodrow who signed autographs and posed for photos with fans at Gd2go for about an hour.
Goodrow says the highlight of his first NHL season was playing in Toronto and Ottawa back in March.
During those visits he was thrilled to see all the Battalion jerseys and the fan busses from North Bay that followed him to Toronto and the nation's capital.
"Playing at home in Toronto, seeing Battalion jerseys and green Goodrow jerseys in the crowd was amazing and that was probably the biggest game of my career," Goodrow said about playing in the ACC.
"It's amazing the support the people here showed for the team and for myself."