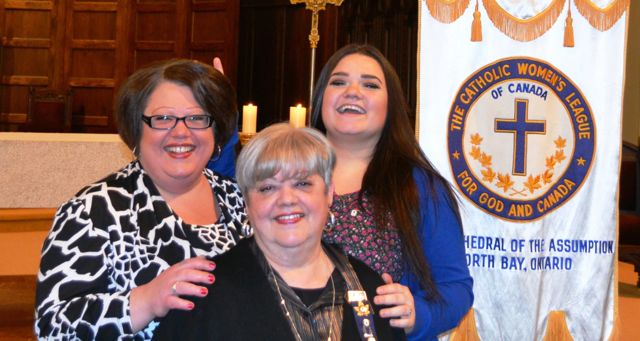 On Sunday, February 1st, 2015, The Catholic Women's League (CWL) of the Pro-Cathedral of the Assumption held its Installation of Officers ceremony at the 11:00 a.m. Mass.
Among the officers were three generations of CWL members (left to right) Noelle Sharpe (daughter of Maudena and mother of Shelby), Maudena Farnsworth (mother of Noella and grandmother of Shelby) and Shelby Sharpe (daughter of Noella and granddaughter of Maudena).
Together, these women represent 40 years of service to the CWL, the Pro-Cathedral of the Assumption parishioners and to the North Bay community.

The CWL works to enhance the spiritual development and individual development of its members. It is a vehicle for communication and development of Christian fellowship among Catholic women everywhere. Guest speakers are frequently invited to assist in educating or involving members in community resources.
Service to the community involves support and participation in many activities including: Catholic Charities, the Gathering Place, post-secondary student bursaries, breakfast programs at three schools and visits to a ward at the Regional Mental Health Centre. Support is also provided to the North Bay Food Bank, VON Meals on Wheels, Right to Life and Birthright. Financial support is given to several provincial and national programs.
The members serve in many areas of our parish community, and their generosity and spirit lives out our mission statement. Along with the national organization, the CWL of the Pro-Cathedral of the Assumption celebrates its 95th year in 2015.
Photo credit: John Pierce