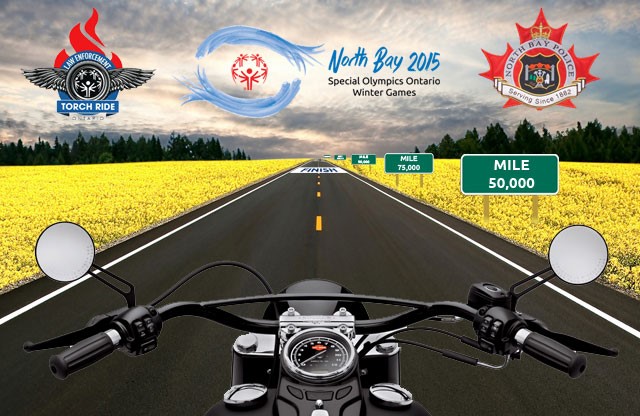 The North Bay Police Service is pleased to participate in the Law Enforcement Torch Ride which will take place from North Bay to Port Loring on Saturday September 20th. This year's Torch Ride will support the 2015 Special Olympics Ontario Winter Games, which will be held in North Bay from January 29th to February 1st, 2015.
Fee and registration
The fee is $40 per person to participate. The fee will be waived for those who fundraise a minimum of $200. For more information or to register online, visit the North Bay Law Enforcement Torch Ride page. Note that registrations will be accepted right up until the day of the ride. Visit the registration table from
8 a.m. to 10 a.m. at Lee Park on Saturday morning.
The Route
The ride begins at 10 a.m., leaving North Bay from Lee Park. The ride will continue left on Judge Avenue; left on Main Street East; right on Fisher Street; right on Hwy 11/17 bypass to Hwy 17 East; right on Hwy 94 Corbeil; left on Corbeil Road; right on Astorville Road; right on Lake Nosbonsing Road to Hwy 654 West; right on Hwy 534; left on Hwy 524; and right on Hwy 522 to Port Loring. (Click here for a Google Maps visual of the route.)
About the LE Torch Ride
The Law Enforcement Torch Ride is a celebration of the motorcycle industry, motorcycle enthusiasts and Law Enforcement Motorcycle Divisions and their support of Special Olympics Ontario. It is a one day event held in numerous communities across the Province in which Law Enforcement Officers make special dispensation and escorts a safe and controlled motorcycle ride.