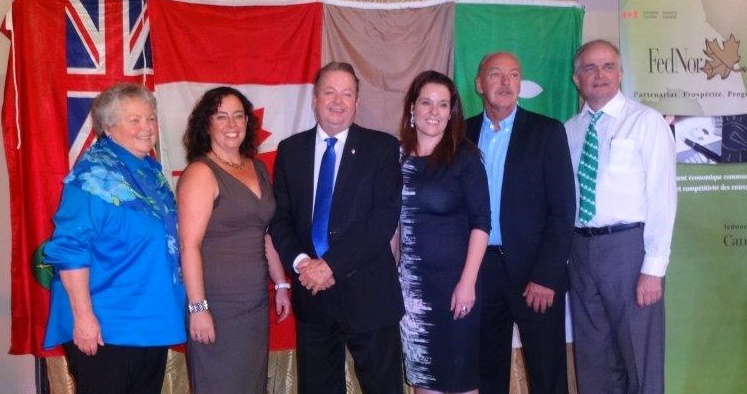 News Release
***************
Timiskaming Shores September 20, 2014 – Jay Aspin, MP for Nipissing-Timiskaming announced today $49,250 on behalf of the Honourable Greg Rickford, Minister of Natural Resources, FedNor, and Minister responsible for the Ring-of-Fire portfolio and $25,000 on behalf of the Honourable Jason Kenney, Minister of Employment and Social Development (ESDC) in support of francophone culture, and seniors, respectively.

"I am very pleased to announce these enhancements to our communities," said MP Jay Aspin. "In addition to remaining disciplined and keeping the economy on track, it is crucial we invest in the vitality of our communities: Franco-Ontarian culture greatly enriches our region and seniors continue to play a significant role in our families and communities."

The FedNor investment of $49,250 will enable the Association canadienne-française de l'Ontario (ACFO)-Témiskaming to coordinate and implement a variety of events and activities to maximize the tourism potential of Francophone communities. Specifically, this strategic investment will be used to hire an event coordinator to further promote and advance Francophone culture and heritage throughout the area.

ACFO-Témiskaming is also receiving $25,000 from ESDC through the New Horizons program to create new opportunities for seniors in Timiskaming region to volunteer/mentor younger generations by planning a series of workshops.

"On behalf of the Francophone communities and businesses that will benefit from today's announcements," said Anne Thibodeau, President of ACFO- Témiskaming. "I applaud FedNor and the Government of Canada for taking action to bolster the economic outlook of our region and provides us with the resources needed to position the area for immediate and long-term prosperity."

"The federal government is proud to invest in strategic initiatives that enhance the vitality of seniors and francophones in Northern Ontario," said MP Jay Aspin. "Today's announcements will enable ACFO-Témiskaming to help raise the profile of francophone organizations, businesses and communities in the region, as well as supporting services and opportunities for seniors."

Economic Action Plan 2014 proposes an additional $5 million per year for the New Horizons to support additional projects that benefit seniors. Since 2006, the New Horizons for Seniors Program has funded more than 13 000 projects in hundreds of communities across Canada.