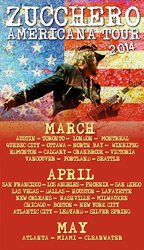 Davedi Club
News Release
*****
Zucchero, one of Italy's biggest musicians is set to perform in North Bay at the Davedi Club on Wednesday March 19th, 2014 for a intimate evening.
Zucchero has sold more than 40 Million albums and is known all around the world with his mix of rock and blues music.
He has performed with several international artists such as Bono, Sting, Queen, Luciano Pavarotti, Miles Davis, Brian Wilson, Joe Cocker, Stevie Ray Vaughan and Eric Clapton.
Zucchero is known for his biggest global hit in 1991 with Senza Una Donna (Without a Woman), a duet with the famous Paul Young.
Zucchero is also known for his charity work around the world and performed for Nelson Mandela at his 91st birthday celebration.
Zucchero is performing in his Americana Tour 2014 promoting his new album La Sesion Cubana, brought Zucchero together with some of Cuba's most important musicians.
Tickets for this special evening with Zucchero at the Davedi Club are on sale now, by phone at 705-474-4190 or visit the Davedi Club in person.
Ticket Price is $45.00 which includes dinner.
*****