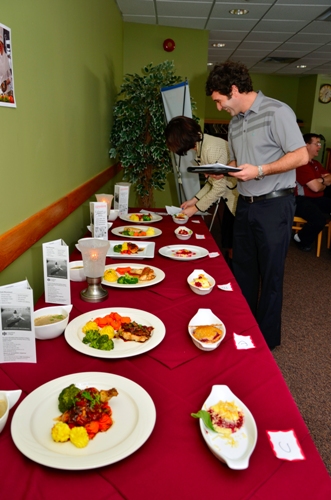 Canadore College
News Release
*****
This Saturday, high school students from across the province will be competing for the title of Canadore College's Next Top Chef.
The competition sees ten student teams rival to create the best culinary presentation of toasted pecan and butternut squash soup, stuffed chicken breast Apollo, rice pilaf, ratatouille and hot chocolate fondant with crème Anglaise.
"This is the sixth year we run this competition, and our expectations are high because the students have consistently delivered quality," said Canadore Chef and School of Culinary Arts Professor Derek Lawday. "The work is challenging and the results are always surprising. I can't wait to see the students' passion for food take shape this year."
Menus will be judged by a panel of culinary experts based on taste, presentation, preparation, safety and sanitation and professionalism.
First prize winners will receive first semester tuition to a Culinary program of their choice at Canadore College.
Date: Saturday, March 22, 2014
Time: 9 a.m. – 2 p.m.
Location: 100 Elements Canadore Dining Room (D113), College Drive Campus, 100 College Drive, North Bay, Ont.
Media and the general public are welcome to attend.
*****