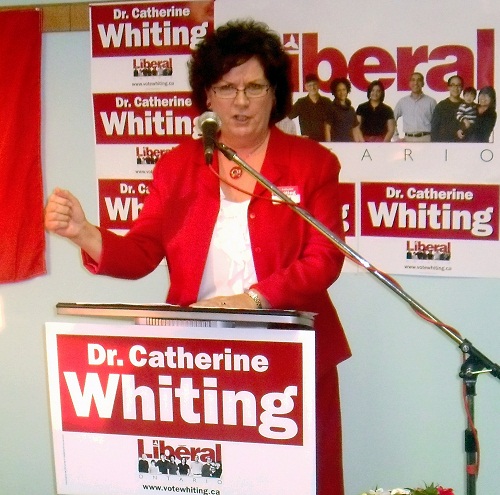 The Liberals may have found someone to carry their flag locally in the provincial election campaign.
She's Dr. Catherine Whiting, who ran for the Liberals last time around.
"I suggest you call (Liberal Association President) Gord Rymal." was all Whiting would tell Baytoday.ca by telephone this afternoon.
A call to Rymal's office was unreturned by press time.
While Whiting would not confirm nor deny she was running, this was the day that Rymal said he expected to be able to announce a candidate when he talked with Baytoday last week.
The group had hoped to unveil last Tuesday.
If Whiting is running, she'll be up against incumbent MPP Vic Fedeli, veteran NDP candidate Henri Giroux, and Libertarian Party hopeful Derek Elliott.
Meanwhile, New Democrats want the HST off home hydro bills.
"Our plan will save families about $200 per year by removing the HST on home hydro bills and moving ahead with the elimination of the Debt Retirement Charge," said NDP candidate Henri Giroux .
"While in government the Liberals put HST on hydro bills on the same day as they cut corporate income taxes. It makes sense to give families a break and take the HST off home hydro bills."
PC candidate Vic Fedeli also had an energy theme today.
"Our plan will mean a $384 saving for every household, and it will also be important for the business community, whose hydro bills have tripled in the last 10 years," he said.
"We'll fix the rich subsidies on wind and solar power."
Fedeli says the PC plan has other elements.
Replace wasteful subsidies for windmills and solar panels. This would save our economy $20 billion a year in energy costs.
Reduce the bloated energy bureaucracy that has doubled over the past decade.
Pursue safe, reliable, cost-effective technologies like nuclear, hydroelectricity and natural gas.
Open up access to affordable hydroelectricity and natural gas in nearby jurisdictions such as Quebec and several U.S states.