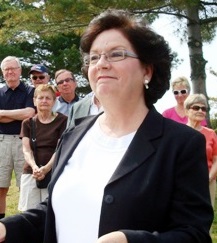 Liberal candidate Catherine Whiting says the eduction debate Tuesday went ahead " despite a snub from PC incumbent Vic Fedeli".
Fedeli campaign manager William Ferguson says his candidate had a scheduling conflict and was attending a town hall meeting in Powassan
"The Liberal Party understands that in order to grow a dynamic economy, Ontario must have a world class, relevant, and cutting edge education system," says Whiting. She calls the PC Party's platform "reckless".
The debate was hosted by the Near North District School Board
Meanwhile, all six candidates will face off tonight in the Chamber of Commerce debate at the Clarian Resort Pinewood Park, at 7p.m.