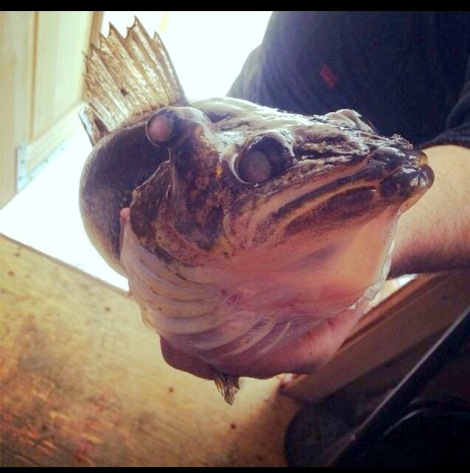 On January 24, 2014 when BayToday.ca originally ran the story about Third Eye Louie, as we have affectionately named him, we instantly reached out to MNR Minister David Orazietti for comment.
Today we finally heard back MNR, not Orazietti himself but from the local Nipissing Area Supervisor Randy McLaren.
"The details of the story remain unclear. The Ministry of Natural Resources (MNR) was unable to inspect the fish as it was released back into the lake," notes McLaren.
"As a result the MNR cannot verify its authenticity or make an informed assessment of the fish's condition. The MNR has not received any previous reports of this nature for walleye in Lake Nipissing."
"The MNR conducts several annual surveys on the lake including open water and winter creels, fall walleye index netting, walleye spawning assessments and ice out trap netting surveys. We have not come across a fish presenting these or similar symptoms during these surveys to date," he concludes.
*****
There has been great debate around who owns the rights to the photo of 'Third Eye Louie' submitted to BayToday this morning and in the interest of fairness we would like to credit the correct individuals for taking the photo.
Third Eye Louie was caught by Jimmy Stewart at his shack on Calander Bay January 19th along with his friend Chad Poitras and Brandon Warmington.
Poitras has also provided two more photos of Louie.
*****
Derek Warmington was on a fishing expedition this past Sunday with his son Brandon Warmington on Lake Nipissing and what they reeled in has them scratching their heads and asking what is going on in the lake.
"My son caught a pickerel with a 3rd eye on last Sunday in Lake Nipissing," he tells BayToday.
"Is there a nuclear reactor or toxins in the lake to cause this?"
He says the experience as very weird and the fish is truly ugly.
"Lots of local anglers fishing have also caught something like this," he notes.