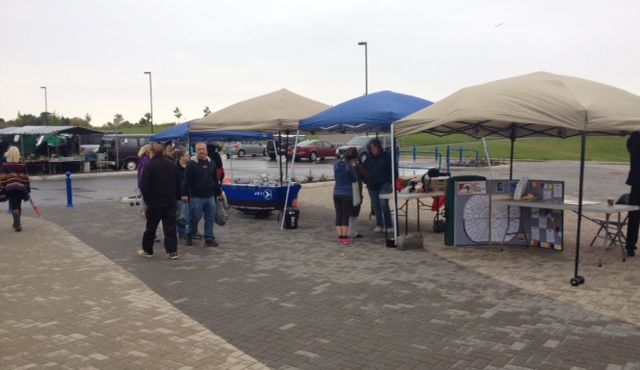 Vendors and visitors braved the wind for Health and Wellness Day on Saturday. PHOTO BY DENNIS CHIPPA.
The irony of standing outside in heavy rain and wind to talk about healthy living was not lost on organizers and participants of Saturday's 2nd Annual Health and Wellness Day.
The fair, sponsored by the Multiple Sclerosis Society's North Bay branch, was moved to the farmer's market this year. It's a partnership organizer Shelley Declean-Dubeau says, was a good one, despite the weather.
"Obviously people who come to the farmer's market are pretty health conscious and also want to support local. Here at the health and wellness day we have local merchants and local people who are committed to promoting health and wellness for all of us and for our families, so it's a good fit," said Declean-Dubeau.
Dubeau says the event is designed to provide information on local health services to those struggling with a chronic disease. Navigating the health system can be tough, and the idea is to provide at least a starting point.
"We have heard from a number of people who are new to North Bay that it is a bit confusing and where do they go for health and support and also where can they go to get fit and take care of their fitness," said Dubeau.
Over a dozen health agencies, health related businesses and fitness groups took part in the event. Groups like the Student Nutrition Program,, the North Bay Indian Friendship Centre, United Way and the Good Food box handed out information to those brave enough to venture out. The Taoist Tai Chi Society took several opportunities to provide demonstrations.
For the Canadian Cancer Society's Deb Marson, the day was wet but valuable.
"To share what we have in our community, what services we have, what programs we have. It's basically a one stop shop for people to find out what is out there and available," said Marson.
That kind of information exchange is helpful for those with a chronic illness, but also for their loved ones.
One of the organizers of the event, Josephine Rocheleau, a volunteer with the MS Society, says the reason she was out on a cold, rainy Saturday was her cousin, who represents a new trend towards younger people being diagnosed with MS.
"My cousin, who is under 30, was diagnosed when he was in his early 20's. So, definitely we see him struggle on a daily basis. So definitely health and wellness touches everyone's lives, young and old So it's a good time to get a good grasp on your physical mental and spiritual health at a young age," said Rocheleau.
The rain and wind eventually won out, and organizers decided to end the day early due to safety concerns. But hopes remained high that next year's event will draw more vendors, more participants, and less rain.