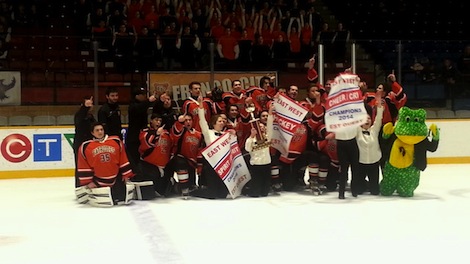 "West was Best" and Franco-Cite collected plenty of honours at the 2014 East-West competition Friday.
Franco-Cite and St. Joseph Scollard Hall shared the win in the two-minute cheer competition, which was judged by a panel among the likes of Mayor Al McDonald, Federal Liberal nominee Monique Lugli and former Centennial and NHL player Bill Houlder.
The Patriotes took home the spirit award as well, to cap off a comeback effort on the ice by their boy's hockey team.
The women in the East proved mighty in a 4-0 shutout and led 5-1 going into two more periods.
But after Widdifield pocketed two in Period 3, the Patriotes completed the comeback and the West took a 7-5 shootout win.
Cheers erupted early and often to set the tone for the day's events.
Lined up the West side this year was Franco Cite, Odyssee, and Chippewa, while the Wildcats took up Section 9 of the arena.
Eastwards, West Ferris sat in Section 2.  Algonquin was next and then FJ McElligott and Ecole Secondaire Elisabeth-Bruyere.  St. Joseph-Scollard Hall followed all of them at the end.
Each team performed their two-minute cheer and then it was time for the hockey portion of the competition.
The St. Joseph-Scollard Hall Bears pulled out a 1-0 victory over Chippewa in the first 12 minutes of boys hockey.
That was followed by a 1-1 draw between the Northern Braves and a team comprised of players from both FJ McElligott and Ecole Secondaire Elisabeth-Bruyere.
After the girl's all-stars played 24 minutes, the announced score was 5-1 East.
When all was set in stone, the four-point balloon was divided in half after the Wildcats chipped at West Ferris for a 2-0 count.
They missed a couple chances at an empty net in the dying moments to cut into the lead further but that's all Franco Cite would need.  They defeated Algonquin 2-0 as well to force an East-West deciding shootout between the two teams.