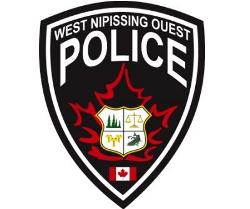 West Nipissing Police Service
News Release
*****
During the week of April 04 to April 10, the West Nipissing Police Service logged 227 calls for service. Among those were 30 9-1-1 calls, 30 police Assistance calls, 4 Alarms, 4 Thefts, 2 Threats, 2 Assaults and 2 Domestic Disturbances.
On April 4th, The West Nipissing Police received information that a male was driving around on an ATV without a license.
Officers soon observed the suspect vehicle on Railway at King St. which is where police attempted to stop the ATV but the driver would not pull over.
The driver attempted to avoid a police vehicle but lost control and collided with the cruiser.
The officer effected a gun point arrest which is when he was taken into custody.
The 21 year old Sturgeon Falls resident was charged with Fail To Stop For Police, Dangerous Driving, Drive While Disqualified and one count Breach of Probation Order.
He was held in custody awaiting a bail hearing.
On April 5th, a complaint was received from a male who stated that he is a victim of a Domestic Assault.
The complainant told police that on this date a heated argument started between the two which is when his wife told him that she would kill him.
Later that evening the dispute continued where the victim told police that he was pushed down a flight of stairs and when he exited the house, she continued the assault by striking him repeatedly on the head with the heel of a shoe.
The male then left the residence.
The 35 year old Verner resident was later arrested and charged with Uttering Threats, Assault and Assault with a Weapon.
She was subsequently released on a Promise To Appear with conditions not to communicate with the victim.
On April 5th, officers were dispatched to a local business regarding a shoplifter.
Upon arrival, police were directed to where the shoplifter was located.
The information received was that an off-duty police officer was in the store when he observed a male take a package from the shelf, cut out the item and put it in his coat. The off-duty officer confronted the man and arrested him.
The 43 year old Garden Village man was charged with one count of Theft Under $5000 and Mischief.
He was later released on a Promise To Appear with conditions not to return to the store.
On April 5th, police responded to a 9-1-1 call from a business located on Main St. regarding an out of control patron.
Upon arrival, officers were asked to assist in removing an intoxicated female.
While doing so, the suspect became combative and at one point she kicked at officers.
Force was needed in order to take control of the subject but she continued to be violent but was eventually taken into custody.
The 53 year old female was charged with 3 counts of Assault Police, 1 count of Resist Arrest and was also served a Provincial Offence Notice for Public Intoxication.
She was later released on a Promise to Appear.
On April 06th, a WNPS officer was on general patrol in the town of Sturgeon Falls when a vehicle was observed driving in an aggressive manner.
The vehicle was pulled over on Salter St.
The driver was queried and he was found to be a suspended driver.
The male was arrested and a subsequent search of the vehicle resulted in a small amount of marijuana being located.
The 19 year old male was charged with Possession under the Controlled Drugs and Substance Act and was also charged with Drive While Suspended.
On April 10th, the West Nipissing Police Service received Police Assistance call stating that someone had called them claiming to be from Microsoft.
Once they got access to the computer, they asked for money in order to unlock the computer.
The complainant was advised to bring their computer to a computer tech business in order to re-gain access to their PC.
If anyone has information about any crimes, please contact either the West Nipissing Police Service at 705-753-1234 or Crime Stoppers at 1-800-222-8477 (TIPS).
*****