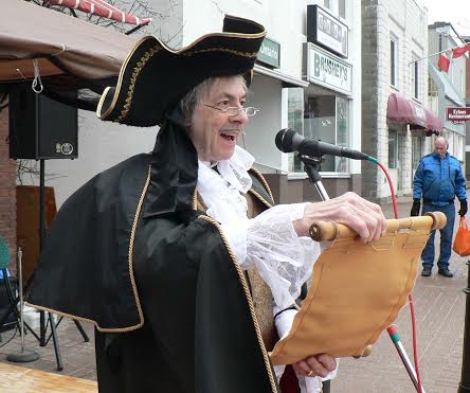 Powassan Town Crier Hugh Smith opens the 17th annual Maple Syrup Festival Saturday. Photo by Jeff Turl
The temperature Sarturday was a chilly 4 degrees, and from time to time a light drizzle fell.
But Powassan Town Crier Hugh Smith, dressed in an elaborate costume, stepped forward confidently and shouted "Hear ye! Hear ye! Hear ye!," as he welcomed visitors to the Powassan Maple Syrup Festival "a celebration of spring time and all things maple."
Smith has been the Town Crier since 2005, the centennial year for the Municipality of Powassan.
"My mother (Elinor) made my costume," said Smith, a member of the Ontario Guild of Town Criers.
"I needed something that looked 18th or 19th century." he smiled. The crier is a honourary position in towns, and make public announcements in the streets.
Criers often dress elaborately, a tradition dating to the 18th century.
But while the welcome was warm, the weather was not.
That failed to dampen the spirit of people attending.
"We expect by the end of the day to see between 6-7 thousand people out here." said festival chairman Roger Glabb.
Last year, with sunny skies and TV personality Rick Mercer in attendance, approximately 11 thousand jammed the main street.
"We got lucky." admitted Glabb.
The traditional Pancake Flipping Contest was the first order of business, and with defending champ Rick Mercer absent, the crown went to Nipissing Mayor Pat Haufe who won a tie-breaker with North Bay Mayor Al McDonald.
The 17th annual edition featured the usual assortment of vendors, musical acts, children's activities, and pancake breakfasts, but noticeably missing were the horse wagon rides.
"Insurance killed that event," said Glabb.
"Last year the horse team got spooked and took out a couple of cars."
Although no-one was hurt, now the town can't get the insurance needed.
While the financial impact of the festival on the town isn't known, Powassan Mayor Peter McIssac says it's about more than money.
"This is a huge social event. It draws our communities together."