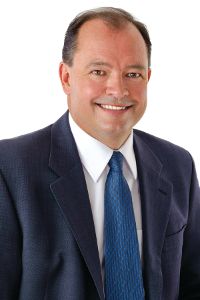 Following a number of attempts to talk with Mayor Al McDonald following Monday's council meeting, BayToday caught up with him Thursday afternoon by phone.
McDonald apologized, saying that his attention was focused on meetings concerning both the Pipeline and the ongoing ONTC issue.
Retired teacher James Brian was at council on Monday evening to address some issues as a taxpayer regarding the recent auditor's report with respect to the overruns in the renovations to Memorial Gardens.
Brian's scolding presentation repeatedly asked, 'who knew?' following eight questions surrounding the organization, operation and implementation of taxpayer's dollars for the $16.2 million project.
Brian concluded the presentation by saying, "I have observed that people who have the guts to question what officials do are not liked for their 'second guessing' and are treated with a fair bit of disdain," ending his speech with a quote from George Orwell, which he saw as "pertinent to the issues which I have brought forward tonight.
"The further a society drifts from the Truth, the more it will hate those who speak it," Brian said.
Following Monday's presentation, it's worth noting that the Mayor and Council didn't come forward with answers to any of these questions, only thanking the presenter, who had his podium microphone turned off once the allotted five minutes ran out.
McDonald, feeling he had to better clarify his position following an article featured at Baytoday.ca regarding the 'who knew' presentation, told a reporter that he and all members of council have been "open and transparent since day one."
To council's credit, the auditor's report was presented in a public forum, despite Mr. Poloni's recommendation to do so otherwise.
"That right there speaks to how open and transparent we are," he says.
"When we learned about the overrun, we publicly announced it; we called for an audit; the audit was done in a public forum; recommendations were given and restrictions were tightened in order to prevent something like this from ever happening again," he says.
In addition, McDonald says steps were made in order to pay for the $4.2 million cost overrun.
"We had three options," he says, "one; we could borrow, two; we could take it out of reserves or three; we could defer non-essential capital projects."
"We chose to defer," McDonald says.
When questioned about the checks made to the order of the Gardens, who signed them and who they were signed for, McDonald pointed out that every member of council has a legal right to view the signed checks issued for the project and says that councillors can verbally disclose to the public what is written on the checks.
Councillor Mark King said that he had not had time to look at the overall registry since being installed on the council bench, but that he will get to it as soon as he is able to.
As detailed as the KPMG audit was, it left a lot questions remaining such as; why formal documentation of change order was prepared after actual completion of the work; why construction activities commenced before the completion of the design drawing; why the initial project budget of $12 million was not supported but rather was described, according to the report, as a 'conceptual figure'.
McDonald says that a process was followed and that when he and council knew of the second cost overrun, that information was made public and within days, issued an audit that was released a few weeks later after the Christmas break.
But for many citizens, the process still seems to lack a linear time line and chain of command, pointing to the fact that where most of the monies were put into the Gardens budget unauthorized and were not noticed for a number of months by council.
As well, these funds had to be put through the finance department and it seems mind-boggling that overruns this large would not set off alarm bells, triggering phone calls to councillors to inform them that more money was required for the project.
In attempting to answer these question and Mr. Brian's enquiries, McDonald could only speak to his legal concerns in that he cannot discuss personnel or legal issues, but says that he can talk about anything else that he knows regarding the issue of spending on the Gardens.
"I'm not trying to hide behind things," he says.
Regardless, not being able to discuss the issue fully with the Mayor or with his council frustrates many citizens, who still feel that, in the name of legal accountability, issues regarding the misuse of tax dollars are being hidden and were too easily allowed to become diverted out of the taxpayer's control into doing whatever the city employees deem to be necessary in order to complete a project on time.

McDonald says he understands what frustrates people, however, he also says that he is bound by the Privacy Act to not reveal who, what or when caused the spending to go over budget.
That doesn't seem to give people the closure of knowing exactly what their taxes will be paying for over a period of many years.
What he could say is that he and council are doing their utmost to create and maintain transparency, with the city's operations and structure of departments being tightened up considerably in the hopes that the shifting of funds and lack of oversight will be avoided.
When asked if there has been any serious repercussions with regards to the infrastructure that allowed this overspending to occur, the Mayor took a long pause, then said that he would love to answer the question but with his concerns with regards to the Privacy Act, saying "I can't comment."