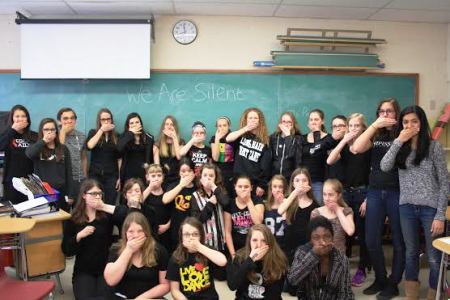 RaiderAid Committee
News Release
*****
On April 17, 2014 approximately 40 Chippewa Secondary School students from the grades 7-12 took a silent vow during the school day for human rights awareness.
The campaign is called We Are Silent, which is run through the activist group Free the Children. Free the Children helps support local and national causes by empowering students to work through their own schools groups to make a difference.
Chippewa's environmental and philanthropy group RaiderAid ran the initiative this year. It was RaiderAid's second year participating in the campaign.
Along with the independent vows of silence, RaiderAid also ran a bake sale to raise funds for the Adopt a Village program.
Student's tried to communicate with buyers while staying silent to demonstrate the importance of communication, something which many around the world are denied the right to.
"We realize the importance of our voices only when we are silenced," says Malala Yousafzai, a Free The Children activist/spokesperson. Malala was 15 when she was shot on her way to school, because she had been fighting for education rights in Pakistan.
Chippewa would like to congratulate all the students who tried their hardest to stay silent, the RaiderAid members that helped bake all the delicious bake sale food, and to the students who supported the cause through the bake sale.
*****