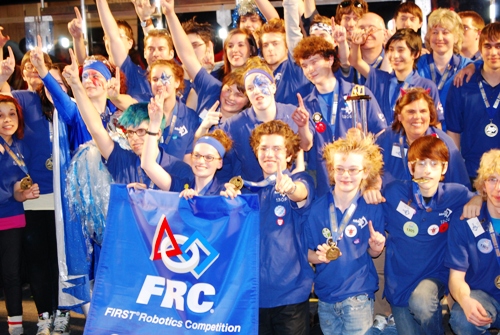 Team 1305, a student robotics team, will bring three tiers of competitive varsity robots to take over Northgate's Centre Court for a two-day robot extravaganza.
The team is in its fifth year.
The action takes place from 4-9 p.m. today and 9:30 a.m. to 6 p.m. tomorrow.
Children of all ages are invited to build their own LEGO NXT Robot in a hands-on experience and witness all-day demonstrations of creations from local FIRST LEGO League teams.
Spectators can also take part in a VEX Robot Driving Challenge, for a chance to win prizes, at multiple points throughout the day.
Team 1305 will put its garage of 100 lb. FRC bots, Divinitus, Magnesium, Apollo and Isus through their respective year's challenges. Ice Breaker, the team's newest promobot will be making its debut as well.
Face painting, LEGO building block mosh table, custom button making, HEX bugs, and dancing, will also take place throughout our two day event.
Children ages 6-18 years of age are encouraged to come out and experience how Team 1305 students apply everyday learning into the construction of mechanical devices to meet annual worldwide game challenges and compete in varsity sports of the mind!
About FIRST Team 1305
Team 1305 is the Near North Student Robotics Initiative, a robotics team representing the city of North Bay and surrounding area. It competes with FIRST (For Inspiration and Recognition of Science and Technology), an organization dedicated to promoting science and technology to youth using robotics to apply what students learn not just in science but all fields of arts & technology.
FIRST and VEX game challenges change yearly and do not work on principles of defeating your opponents by battling them by smashing, but rather Gracious Professionalism.
Gracious Professionalism is competing like crazy in the game but helping out other teams as they may be your teammate in another match.
About FIRST
FIRST's mission is to show students of every age that science, technology, and arts can be applied in really cool hands-on ways. Problem-solving, collaborative learning, and teamwork are not only fun and rewarding, but are proven paths to successful careers and a bright future.
FIRST learning never stops building upon itself, starting at age 6 and continuing through age 18. Participants master skills and concepts to aid in learning sciences, maths, arts and technology through innovative projects and robotics competitions, while gaining valuable employment and life skills.