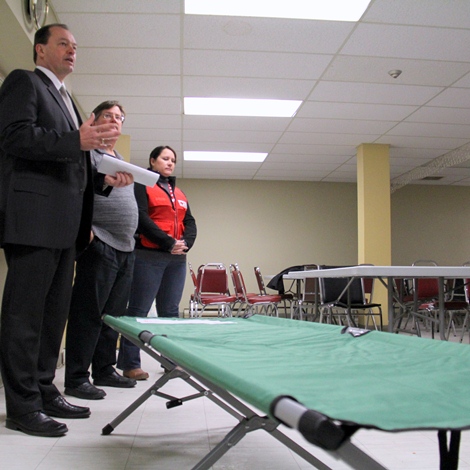 As the sun sets on a cold winter's day in the Bay most folks rush out of work, pick up the kids and dinner and head home to bundle up in their safe warm homes, but for many folks in the city this is not a reality because they don't have a home.
So now what, you are homeless and in need of shelter -- where do you go in North Bay to get out of cold?
Until today (Tuesday) the city had no Cold Weather Protocol to help the vulnerable in the city without shelter during the colder nights of the year.
Thanks to the efforts of Dennis Chippa, DNSSAB's Homelessness Committee member, the Red Cross, local clergy, social service agencies and concerned citizens the city's homelessness now have a place to come in out of the cold.
The Cold Weather Shelter, located at St John's Anglican Church corner of Main and Sherbrooke streets, officially opens tonight and based on the weather forecast will be open Wednesday and Thursday as well.
Chippa says the warming centre is a place for those without shelter to go to for during the coldest nights of the year to have a cup of coffee and a snack and warm up and if needed grab a cot and get some sleep.
The North Bay Police Service has also partnered with the important initiative that will see officers do a circle check directing those folks that they know need this service to the centre.
Chippa says the centre, which will open at 7pm, can accomodate 14 cots for sleeping and that St. Andrews Church will act as an overflow centre for cots if there is a need.
"I don't know if we are going to have anybody or we may be overrun," Chippa tells the reporters during a news conference at the centre Tuesday.

View The Church of St. John the Divine (Anglican) in a larger map