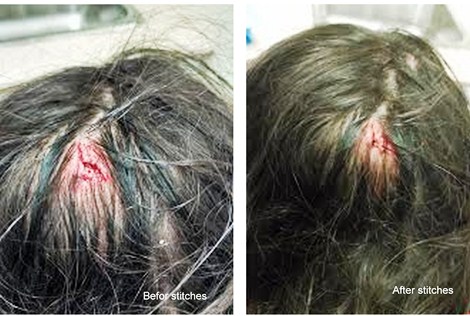 Struck by a passing vehicle that left with a major gash on her son's head, which required stitches, has one concerned mother calling on the city to put a sidewalk in on Wallace Road.
Liz Rampersad tells BayToday that sometime around 5:15am on Wednesday her son Adam Gauvreau was walking on Wallace Road on his way to the bus terminal to go to work when a red/orange, Super Duty, company truck passed from behind and struck Gauvreau in the back of the head the vehicle's side mirror.
"My son has a gash in his head as a result of this carelessness," she states.
"If the mirrors on that truck didn't fold in, my son could be laying unconscious (or worse) on the side of the road as a result."
Gauvreau, who sustained a bruised left leg and bruised ribs from being knocked off his feet, admits he was walking on the 'wrong' side of the road but Rampersad says with a sidewalk in place that argument would be irrelevant.
"I see people walking on Wallace Road all the time and they are almost always on the Arena side of the road, regardless of the direction they're walking."
"WALLACE ROAD NEEDS A SIDEWALK!" Rampersad states emphatically.
"I know from people who live on Wallace Road that the city has been asked many, many times to have a sidewalk in place there. Now there has been an accident that could have been a tragedy if the mirrors on that triuck didn't fold in."
Baytoday is still waiting for comment from city officials.