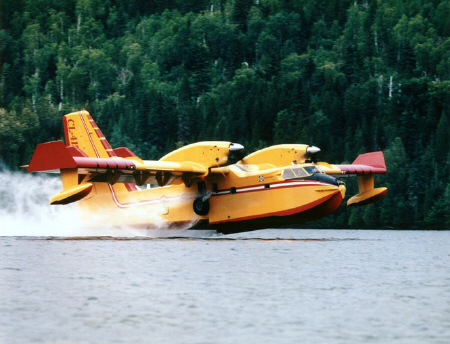 Story by Ian Ross of Northern Ontario Business
Vortex Aerospace Services began as a pitch by Jody Joyal to convince Bombardier Aerospace's amphibious group to keep its water bomber production facilities in North Bay.
When the order book for the CL-415 Superscooper began drying up in the early 2000s, the Montreal-based aviation giant mothballed the final assembly plant at Jack Garland Airport.
Joyal, a former employee and now president at Vortex, was teaching at Canadore College's aviation campus when a Bombardier vice-president contacted him in 2005 about restarting the line, but possibly moving it back to Quebec.
Joyal immediately sprang into action by putting together a proposal that launched Vortex as a third-party service provider in May 2005.
"I told them I can get the guys who worked on the program in the past and I'll put together a company that will help build the aircraft. Give us the parts and the facility and I'll give you the expertise."
He rounded up former co-workers, handpicked some Canadore grads, and recruited some out-of-towners.
Beginning with five employees, Vortex grew incrementally, eventually peaking at 70 in 2008-09 before settling on its current core group of 30 to 35 employees. Joyal hires subcontractors as needed.
"They gave us three airplanes, and that was over 30 aircraft ago."
The assembly line first arrived in North Bay from Montreal in 1998 when the Ministry of Natural Resources was purchasing nine aircraft and Bombardier wanted to place the production closer to the customer.
Located inside a former air force hangar, Bombardier has since become an anchor tenant for the city's expanding aerospace park.
Vortex is on a production schedule of four aircraft per year, roughly one every three months.
Through the Bombardier supply chain, pre-assembled components arrive in North Bay from parts makers in Montreal, the United Kingdom, Romania and Mexico. Vortex employees join the subassemblies together and test all the avionics, electrical systems, engines, and perform all ground tests before the Bombardier pilots arrive from Montreal for the first flight.
"These guys fly different models and they love to fly the 415, it's a real treat."
Each of the $34-million aircraft is painted at a Gravenhurst shop before it is rotated back to North Bay for final Transport Canada inspection.
Selling internationally means hosting customers from Italy, France, Greece, Morocco and Malaysia, and showcasing North Bay to the world.
"They love to come here in the winter because they've never seen snow in some of these countries," said Joyal.
Once the cheques are signed, the aircraft is ferried to the client country with a week's training or more on the handover.
Staying in the Bombardier fold as an independent manufacturer means taking a Kaizen-like approach to keeping costs low and the operation lean.
Joyal said his experienced workforce produces a quality product, and by working with facility leaseholders in North Bay, the combination of labour and square footage costs was cheaper than what Bombardier would spend in Montreal.
"On every aircraft, we're always trying to bring the hours down and make it cheaper for them.
"We've proven ourselves to the point where they're very comfortable with what we do."
Like many industries that experience peaks and troughs, the operation is going through challenging times with many of Bombardier's financially constrained European customers putting aircraft orders on hold.
Joyal said they need to build up the order book, particularly for 2016 and beyond.
"The customers we need want the aircraft but they're telling us to wait a year or two to get their finances in order. That puts us in a situation where we need to find other things to keep the workforce here so that when sales do come, we're not starting from scratch again."
So Joyal is exploring some diversification possibilities for Vortex.
Whereas before, Joyal and Vortex kept a relatively low profile in North Bay, he's now actively working with Nipissing-Timiskaming MP Jay Aspin and the city's economic development department to pursue growth opportunities in the aviation and aerospace field.
Joyal was involved in the city's bid in 2010 to convince U.S.-based Dornier Seaplane to locate an assembly plant at the airport, an effort that fell short.
"Setting up a plant, we've done it from scratch and put all the processes in place. There was a lot we could have done as far as transfer of knowledge."
In the months to come, Joyal expects Vortex will make bigger news with the introduction of some aerospace-related service technologies now under development that he believes will take the company in a new direction.