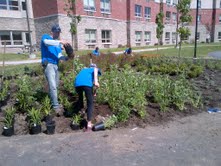 The city's waterfront benefited from beautification efforts by Nipissing Botanical Gardens and Heritage Gardeners Saturday.
With the support of TD Friends of the Environment Fund, Trees Ontario, CAA and Union Gas, plantings done in the Community Waterfront Park this weekend are now providing shade and enhancing the parking lots and main entrance.
A dozen volunteers, many from Union Gas, gathered Saturday to install 700 new trees, shrubs and perennials in the parking lots on both sides of Discovery North Bay museum.
Planters by the clock tower were also given the treatment.
A new garden was installed near Marina Point to beautify the area for both residents and visitors.
"People at Marina Point were pleased as punch," said Peggy Walsh Craig, Chair, Nipissing Botanical Gardens. "They came out to talk with us and ask questions."
TD Canada Trust's Charles Elliott said, "Supporting Nipissing Botanical Gardens and the Community Waterfront Park is one of our favourite projects and we are pleased to provide funding towards this 21st Century Park."